Monitoring your daily sugar intake is one way to maintain a healthy lifestyle throughout each stage of your life. While most fruits, vegetables and dairy products contain natural sugars, these sugars increase overall enjoyment of healthy foods and are consumed in much smaller quantities. Added sugars, found in prepared and processed food, increase overall sugar intake, which can contribute to health issues such as obesity and diabetes.
Adult Daily Sugar Intake
According to a 2009 study published by the American Heart Association, most adult women should consume no more than 25 grams (100 calories) or six teaspoons of added sugar per day. Most adult men should consume no more than 37.5 grams (150 calories) or nine teaspoons of added sugar per day. Food items that contain high amounts of added sugar include soft drinks, fruit drinks, alcoholic beverages and processed foods such as frozen dinners and desserts. These items should be eaten sparingly.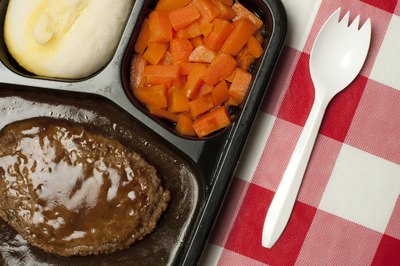 Child and Teen Daily Sugar Intake
Children should consume no more than 12 grams (92 calories) or 3 teaspoons of added sugar per day, according to the American Heart Association. Teens should consumer no more than 18-37 grams (138-285 calories) or 5 teaspoons of added sugar each day. Reducing consumption of fruit juices that contain added sugar is one way to reduce sugar intake. Children under 7 years of age should consume no more than 4-6 ounces, according to The American Academy of Pediatrics. The AAP also recommends children over the age of 7 consume no more than 8-12 ounces of fruit juice each day.
Managing Daily Sugar Intake
Reducing or avoiding processed and prepared foods that contain added sugar is the first step to managing your daily sugar intake. Unfortunately, nutritional labels on these types of foods only include the total percentage of sugars instead of providing separate percentages for natural and added sugar. This can make managing your sugar intake more difficult. Maintaining a diet that includes mostly natural sugars allows you to maintain control of the amount of sugar you consume. The American Heart Association, American Cancer Society and the United States Department of Agriculture each provide nutritional information about fruits and vegetables as well as advice about maintaining a healthy diet and lifestyle.
Health Risks
According to The National Cancer Institute based on a 2001-2004 National Health and Nutrition Examination Survey (NHANES), the average person consumes 22.2 teaspoons of added sugar each day. Common health risks associated with increased sugar intake include obesity, heart conditions, stroke, high blood pressure, diabetes and hypertension. Historically, these diseases were found in older adults, but many are now being reported in children and teenagers.