Men should take the proper steps to raise their testosterone, because as they get older the testosterone levels drop, along with their sex drive. Instead of spending a lot of money on testosterone replacement therapy, there are many herbs that can be used to raise the testosterone levels.
About Herbs
Many people think that herbs offer an advantage over modern medicine. Herbs have side effects just like conventional medicine. Herbs can treat many problems, but must not always be looked to as an alternative to medicine. While herbs are not for everyone, remember that some herbs should still be treated as a potent medicine. While many herbs are part of ancient folklore, there have been proven studies to show that herbs actually do have an effect on increasing testosterone. For instance, the UCLA School of Medicine studied a plant named Muira Puama and found that it increased testosterone levels in men.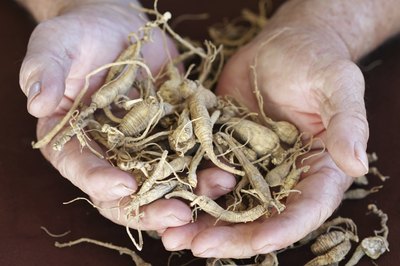 Herbs to Raise Testosterone Levels
Ginseng – This herb has been known to improve stamina and longevity.
Tribulus Terrestris – It has been shown to give better performance and a higher sex drive. The hormone in this herb helps to stimulate the testes, which produces more testosterone. It has also been known to quickly boost testosterone levels.
Horny Goat Weed – This herb increases the blood levels of hormones and helps to improve their circulation.
Fo-Ti – This Chinese herb is considered an aphrodisiac and promotes longevity.
Muira Puama – Herbalists use the wood of this herb, nicknamed "potency wood", as a stimulant.
Damiana – This native Mexican herb is made into a popular drink in Mexico where it is known as a sexual stimulant.
Sarsaparilla – Tablets of this herb are sold throughout Mexico to improve sexual stamina.
Maca Root – This herb has been used in South America as a drink to increase virility.
Mucuna Pruriens – This herb may increase testosterone levels in the body.
Catuaba Bark – This herb is sold in many health food stores and is known to be an aphrodisiac. It can be used as a tea or taken as a capsule. The side effects when first taking it are erotic dreams and an increase in sexual desire.
Yohimbe – This herb is used in Africa to improve circulation. Poor circulation is often a cause of low testosterone levels.
Small Flowered Willow – This herb has been known to increase sexual function as well as relieve prostatitis.
If you find that herbal medicine isn't working for you, try visiting your doctor to discuss alternative options.