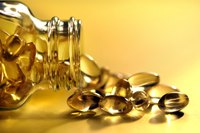 Mnemonics are tools that can help you remember complex pieces of information, with a short phrase or saying. When studying vitamins, people may attempt to differentiate between those that are fat soluble and those that are water soluble. Mnemonics can also come in handy when studying the B-complex vitamins, which include vitamins B-1, B-2, B-3, B-6 and B-12.
Fat-Soluble Vitamins
The fat-soluble vitamins include vitamins A, D, E and K. To remember this grouping, use the mnemonic "the fat cat is in the ADEK" -- which should be pronounced like attic. In this scenario, the word "fat" should remind you that the grouping is of fat-soluble vitamins, with ADEK representing the first letter of each.
B Vitamins
The B-complex vitamins include thiamine, or B-1; riboflavin, or B-2; niacin, or B-3; pyridine, or B-6; and cobalamin, or B-12. To remember the B-complex vitamins, use the mnemonic, "The rhythm nearly proved contagious." In this mnemonic, each of the words in the phrase starts with the same letter as one of the B-complex vitamins, and is in numerical order.