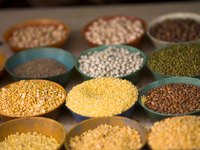 What you eat is an important part of the treatment plan for diabetes. A vegan diet, whether it's a diet you currently follow or one you're considering, can not only help you manage your blood sugar, but may also help improve heart health. A vegan diet is a plant-based diet that omits all animal products, including dairy, eggs and honey. Consult your doctor to discuss a vegan diet for managing your diabetes.
Benefits of Vegan Diet for Diabetes
People with Type 2 diabetes who follow a vegan diet have better control over their blood sugar than those who follow a traditional diet for diabetes, according to a 2009 article in Nutrition Review. The vegan diet improves blood sugar control by promoting greater weight loss and including more low-glycemic foods -- carbohydrate foods with less of an effect on blood sugar.
But it's not just your blood sugar that benefits. The vegan diet is also high-fiber, so you may also see an improvement in your cholesterol levels. In fact, the Nutrition Reviews article reported a reduction in the progression of atherosclerosis in people with diabetes who eat a vegan diet.
Vegan Diabetes Diet Basics
While eating a vegan diet certainly helps you get better control over your blood sugar, carbs still count. The foods you eat provide carbohydrates, protein and fat, but carbohydrates have the greatest impact on blood sugar. Controlling the amount of carbs you eat at each meal is recommended for better blood sugar control.
Your doctor or dietitian can help you determine the amount of carbs you should eat at each meal. The American Diabetes Association suggests 45 grams to 60 grams to start.
Counting Vegan Carbs
Carbohydrates in the vegan diet include grains, beans, lentils, fruit, starchy vegetables such as potatoes or peas and plant-based milk alternatives such as soy milk. A serving of a carbohydrate food contains about 15 grams of carbs.
On a vegan diet, a 15-gram carbohydrate serving is equal to one slice of whole-wheat bread, 1/3 cup of brown rice, 1/2 cup of whole-wheat pasta, one small tortilla, 1/2 cup of cooked cereal, one small piece of fruit, 1/2 cup of cut fruit, 1 cup of soy milk, 1/2 cup of beans or lentils and 1/2 cup of a starchy vegetable. Beans and lentils are considered both carbs and protein foods on the vegan diet.
Other protein foods, such as tofu and nuts, as well as fats such as oil, do not contain any carbohydrates. Nonstarchy vegetables such as mixed greens, broccoli and peppers are also generally not counted as carbs.
Vegan Diabetic Menu
A healthy 45-gram vegan breakfast might include two slices of whole-wheat toast with peanut butter and a small apple. For lunch, you can control carbs and blood sugar with a 6-inch whole-wheat tortilla filled with 1/2 cup of pureed beans and 1/3 cup of brown rice served with mixed greens topped with low-fat salad dressing. This meal also contains 45 grams of carbohydrates.
Stir-fry 1/2 cup of tofu, six cashews and 2 cups of mixed nonstarchy veggies such as carrots, peppers, bok choy and mung beans in vegetable oil and low-sodium soy sauce and serve with 1 cup of brown rice for a 45-gram carb dinner.
If you like to snack, carb-free options include a handful of nuts, carrot sticks and cucumber slices drizzled with olive oil and balsamic vinegar, 1 cup of air-popped popcorn or eight green olives.