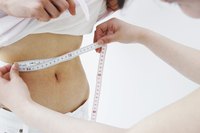 In the United States, approximately 78.6 million adults are obese, the Centers for Disease Control and Prevention estimates. Different hormones in the body have can affect obesity. Cholecystokinin is a hormone that acts in response to a meal, with the potential to alter appetite.
What is Cholecystokinin?
Cholecystokinin is a hormone released by the duodenum after a meal. Some studies suggest it regulates your appetite short term by causing satiety in response to fat and protein in a meal. Early studies have also identified lower cholecystokinin presence in obese individuals in comparison to normal weight individuals during fasting and after a meal. Lower levels of CCK may result in reduced feelings of fullness and difficulty losing weight in overweight people. More research is needed to identify the specific relationship between cholecystokinin and obesity.
Increasing Cholecystokinin With Diet
Early research has suggested certain diet components can increase cholecystokinin production, providing a feeling of fullness. A study published in "American Journal of Physiology" in 2012 suggested that in obese individuals, a high-fat diet has less of a satiating effect than a high-protein diet, which decreased overall eating. More research is needed to identify specifically how CCK mediates these responses .