Homemade Halloween costumes for teens can be quick, easy and budget-friendly. With a little ingenuity, clothing, makeup and household items can become costumes and props. In some cases, the costume pieces don't need to be altered at all, so the clothing can be used long after Halloween.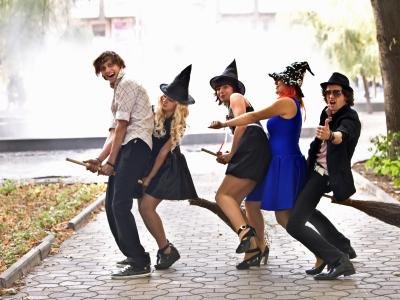 (Gennadiy Poznyakov/Hemera/Getty Images)
Zombies are everywhere these days, and teen costumes for the popular "living dead" are easy to make using items around your home. First, select old clothing that you don't mind destroying. Start by ripping the clothes and, for extra effect, rub some dirt onto them.
Instead of buying costume makeup, take a look at the makeup already on hand. Dark red lipstick can be dabbed onto the skin to simulate bruising or the edges of a wound. Green eyeshadow gives the effect of rotten skin, and generous amounts of brown eyeshadow underneath the eyes makes the eye sockets appear sunken.
Every zombie needs some blood: add red food coloring (and one or two drops of blue coloring) to corn syrup. The syrup adheres well to skin and clothing and has a very realistic look.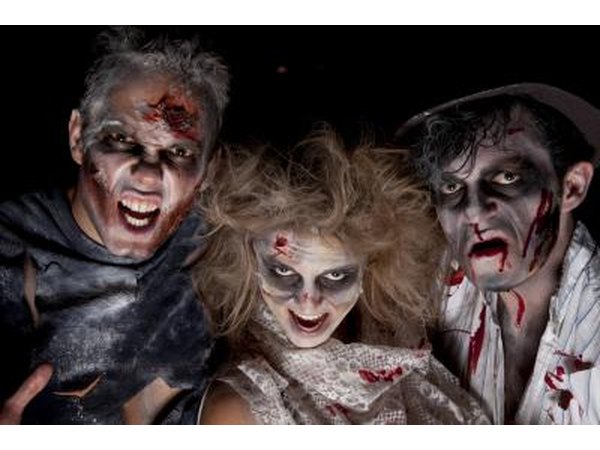 paul whitton/iStock/Getty Images
A stereotypical tourist is easy to spot, and is an easy costume to replicate. Start with shorts and a bold Hawaiian shirt. T-shirts advertising tourist destinations are another possibility.
Add tube socks pulled up as far as they can go, and pair them with sandals.
For accessories, a camera on a strap can be carried around the neck. Place old brochures from past vacations in the shirt pocket. For a finishing touch, wear cheap plastic sunglasses and add a stripe of white zinc oxide to the bridge of the nose.
Fans of the "Hitchhiker's Guide to the Galaxy" book series by Douglas Adams can easily dress up as Arthur Dent, the hapless human who gets taken on an interstellar adventure. Wear a bathrobe and carry a towel, and fellow fans will instantly recognize the costume.
PIKSEL/iStock/Getty Images
A skeleton costume can be made with nothing more than a black sweatsuit and white fabric paint. Draw the outline of leg, arm, hip and rib bones on the sweatshirt and sweatpants, and fill in the bones with the white paint. If desired, black gloves with hand and finger bones painted on can be added.
White theatrical makeup can be used on the face. Homemade substitutes for theatrical makeup include pale liquid foundation makeup, or pale face powder with baby powder mixed in to whiten the color. Add dark brown or black eye shadow all around the eyes to give them a hollow look.
George Doyle/Stockbyte/Getty Images
Halloween Celebrations; Monster Bash; Shelley Wolson; October 2005
Promoted By Zergnet