When reducing your calorie intake for weight loss, hunger may be your biggest enemy, but it doesn't have to be. You can eat large quantities of food, limit calories and lose weight eating foods low in fat and high in fiber. Consult your doctor before making changes to your diet.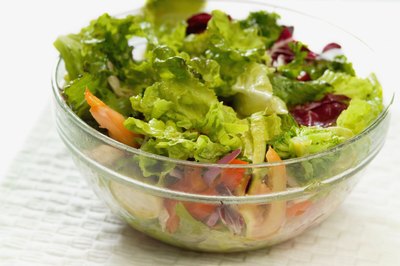 How the Diets Work
Fat is a concentrated source of calories, so limiting your intake of foods high in fat, such as high-fat meat, whole milk and fried foods, saves you calories without really affecting the amount of food you eat.
Fiber in foods such as fruits, vegetables, whole grains and beans adds bulk to your diet, which helps you feel full. Additionally, fiber lingers in your stomach, so you feel full longer. High-fiber foods, especially fruits and vegetables, are also low in calories.
Fiber-Filled Breakfast
A number of low-fat, high-fiber breakfast foods can help you feel full and satisfied until lunch. A good option might include a bowl of low-sugar, whole-grain, ready-to-eat cereal with nonfat milk and a banana.
If you're trying to get more protein with your meals, you might enjoy an egg white omelet filled with spinach and low-fat Swiss cheese with two slices of whole-wheat toast and a dish of fresh raspberries.
When trying to increase fiber in your diet, it's best to do so slowly to prevent abdominal pain or constipation. You also want to make sure you're getting enough water. The amount of water you need varies, but most adults need at least 8 to 12 cups a day to start, Clemson Cooperative Extension says.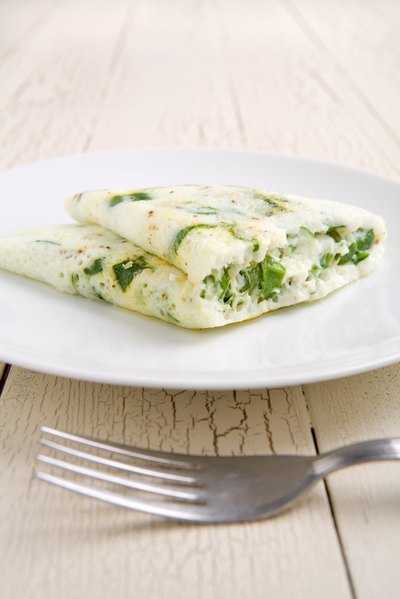 Low-Fat Lunch
To limit fat and get more fiber at lunch, make fruits and veggies the focus of your meal. A healthy, low-fat, high-fiber lunch might include salad greens topped with some of your favorite raw veggies such as shredded carrots, cucumbers, red onions and tomatoes with sliced chicken breast, garbanzo beans and nonfat salad dressing, and served with a fresh fruit cup and fat-free, whole-grain crackers.
You can also make a healthy veggie stir-fry with snow peas, red peppers, bok choy, broccoli, tofu and low-sodium soy sauce. Instead of brown rice, serve it with barley, which has 9 grams of fiber per 1 cup cooked versus 4 grams in the brown rice. For a sweet, high-fiber ending, finish the meal with a fresh pear, skin on.
Filling Dinner
At dinner, trade your regular spaghetti for whole-wheat and top it with lean turkey meatballs served with roasted Brussels sprouts and a spinach salad with nonfat salad dressing. Or you can make a bean burrito, stuffing a whole-wheat tortilla with beans and brown rice and serving it with salsa and steamed broccoli for a low-fat, high-fiber dinner.
Snack Options
Snacks are an important part of any healthy meal plan. Low-fat, high-fiber options include tossed greens with nonfat salad dressing; nonfat yogurt with fresh strawberries; whole-wheat toasted English muffin with low-fat cheese; or raisins tossed with air-popped popcorn.