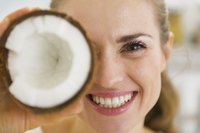 When your skin becomes dehydrated, it can take on a lackluster look, making you appear older than you actually are. At times, even conventional beauty products can exasperate your skin woes. Turning to a natural skin care routine can be a dry skin savior and help you maintain a more youthful complexion.
Eat Healthy to Hydrate
Healthy, hydrated skin begins with what you eat. Choosing to eat foods filled with antioxiant-rich omega-3 fatty acids may help rid your skin of dryness and ward off wrinkles. Add raw walnuts to your oatmeal in the morning, sprinkle flax seeds into your smoothie and enjoy wild-caught salmon for dinner. The healthy fats and antioxidants found in fish, like salmon, can help you maintain a more supple complexion, Stafford R. Broumand, New York-based plastic surgeon at Mount Sinai Medical Center, tells Fox News Magazine.
Make a Moisturizing Mask
For an effective, natural moisturizing facial mask, look no further than your own kitchen cupboard. This easy-to-make mask is beneficial for all skin types and can even be used as an all-over body mask. The antiseptic and anti-inflammatory properties of raw honey can soften skin, and vitamin E-rich avocado can lubricate and fight flakiness, suggests dermatologist Ellen S. Marmur on Dr. Oz's website. Mash half of an avocado and thoroughly mix in 1 teaspoon of raw honey. Apply the mixture to your skin, wait 15 minutes, then rinse with lukewarm water.
Opt for Natural Oils
Healthful oils commonly found in your home can naturally hydrate skin and act as replacements for store-bought moisturizing creams. According to dermatologist Jeffrey Benabio, writing on The Derm Blog, olive oil can work wonders when used as a natural moisturizer, as the oleic acid found within is a powerful antioxidant. Smooth a thin layer of this exceptional oil all over skin, then take a warm bath, suggests Benabio. When it comes to hydrating dry, cracked problem patches on your hands, elbows or knees, "Prevention Magazine" experts recommend coconut oil, as it penetrates better than other oils -- and will make your skin smell great, too.
Embrace Humid Conditions
When it comes to skin care, humidity can be your best friend. To maintain moisturized skin, rid your living environment of excess dry air -- purchase a humidifier for your home, suggests the American Academy of Dermatology. And though steamy showers feel great, water that is overly hot can strip skin of its natural oils; wash with warm water for no more than 10 minutes and close the bathroom door during shower time. Even warm water will allow the room to steam up when enclosed, increasing skin permeability for optimal hydration when you moisturize after bathing.