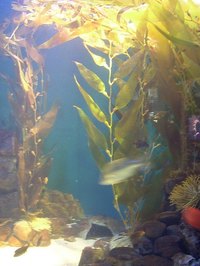 Obesity is a killer. A 2004 government study reported in USA Today indicated that obesity is on track to be the top underlying preventable cause of death in the United States. Millions of overweight Americans are dieting at any given time. If you are one of those looking to lose a few pounds, and are looking for natural remedies, sea kelp may be worth checking out.
About Sea Kelp
Sea kelp is one of the oldest surviving species on the planet. It is a type of seaweed that can be found growing in cold, shallow, nutrient-rich waters. Kelp has many industrial uses, including soap and glass production and food thickening. Kelp even has been studied as a possible source of renewable energy.
Sea kelp is used in many beauty products including shampoo, anti-aging facial creams and other lotions.
Sea kelp has been used for centuries as a source of nutrients. By weight, sea kelp is greater in vitamins and minerals than any other food. It can be found at most health food stores as a dietary supplement in capsule, tablet, liquid or powder form.
Sea Kelp and Weight Loss
Sea kelp is rich in dietary fiber, which absorbs toxins from your digestive system and helps to relieve constipation. It also contains many trace elements needed to maintain a proper balance of electrolytes in your system. Electrolytes are often depleted with heavy exercise and water loss. Because sea kelp also contains iodine, it assists in maintaining normal metabolism. A normal metabolism is important in maintaining a healthy weight.
Low Carb Diets
There are many popular low carbohydrate diets that produce rapid weight loss when reasonably practiced. Low carb diets offer many benefits, but there are drawbacks as well. Sea kelp is a nutrient commonly used in low carb diets to help combat these drawbacks.
Low carb diets are notorious for causing moderate to severe constipation. Sea kelp is a natural laxative. Unlike many laxatives, sea kelp is stimulant-free.
Another major drawback to low carb dieting is the sudden an often severe loss of calcium. Sea kelp is rich in calcium as well as the complimentary nutrients that aid in calcium absorption.
Warning
As with any new dietary program, it is recommended that you consult your doctor before beginning.