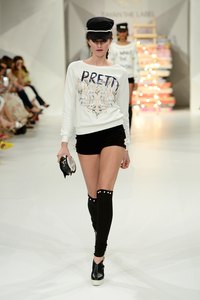 Initially a 1980s phenomenon, leg warmers have made a return as an in-vogue fashion accessory. While they were originally worn as part of a fitness trend, leg warmers are perfect for casual everyday wear, and, in some cases can even work as part of a more upscale outfit. Pair leg warmers with tight, form-fitting legwear, such as skinny jeans or leggings, for optimal effect.
Wear Them With Skirts
When paired with skirts, leg warmers give flair to an otherwise basic closet staple. To best show off your leg warmers, team them with a skirt that is just above your knees or shorter. A long skirt will hide the legwear and can add unnecessary bulk to your lower body. Similarly, if you are pairing your leg warmers with a flowing skirt, keep your hem no lower than mid-thigh, again to avoid added bulk. Wear your leg warmers with either bare legs or tights. Choose solid-colored tights if your leg warmers have a pattern, or patterned tights if your leg warmers are a solid color, and contrast the colors for extra pop.
Try Pants or Shorts
Leg warmers work best with tight-fitting pants, as it keeps the look streamlined; adding leg warmers to skinny jeans or leggings will also mask the starkness of a skin-tight lower-body outline. You can also pair leg warmers with shorts to create a funky vibe well-suited for city streets. As with skirts, keep your shorts relatively form-fitting and mid-thigh or higher. Pair your shorts and leg warmers with tights if the weather is too cool for bare legs.
Choose Footwear Carefully
Leg warmers go well with most types of footwear, from flats to heels to boots. Tuck your leg warmers into your boots, like you would a pair of skinny jeans. However, to avoid a reference to the 1980s, avoid teaming your leg warmers with running shoes -- no matter how minimalist they are. Rock shoes in a color that contrasts with your shoes to reduce the visual effect of a solid mass of color at your feet. For patterned leg warmers, keep your footwear simple -- think one- or two-tone ballet flats and no socks.
Pick the Right Accessories
No matter how cold it is outside, your leg warmers are an accessory, not a necessity. To ensure your appearance is sleek and clean, keep your other accessories to a minimum. For example, while a large handbag is acceptable, keep it simple -- few ornaments and only one or two colors. For a casual urban look, pair skinny jeans with kitten heels, a large, single-color handbag and simple jewelry. For a more upscale look, choose leg warmers in solid colors made from luxury fabrics, such as cashmere.