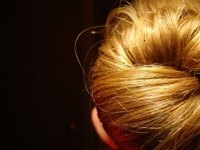 Hairagami is a breakthrough product that allows women to create perfect hairstyles easily. All you need to do is purchase a Hairagami band, which will help you to make perfect buns, ponytails and twists on yourself or with others' hair. Hairagami is relatively inexpensive, but you'll find new ways to use it, making it worth it's weight in gold. Once you have a few basic hairstyles down, you can branch out and create your own Hairagami masterpieces.
Perfect Bun
A perfect bun is a versatile look that you can dress up or down according to the occassion. Perfect for work, it's also a secure hairstyle that works when you need to keep your hair out of your eyes. To make the perfect bun, comb your hair out straight and then lay the Haragami band out flat against the very bottom of the hair. When at the bottom, begin rolling the Haraigami under the hair until it reaches the nape of your neck. Once you've reached the nape of the neck, begin curling the ends of the band so that they meet. Tuck the ends under securely and fluff the bun with your fingers for a more full look. You can also create a spiral bun by overlapping the ends of the band to create a twisted, more contemporary look.
Bun Ponytail
A bun ponytail is an interesting and fresh take on the old standby of the ponytail. Perfect for adding a little variety while you run errands or meet up with the girls for lunch, it's a cinch to do with the Hairagami. Comb your hair out, and then section into portions with the top half of your hair separated from the bottom. Slide the band to the bottom of the top portion, and roll under all the way to the crown of the hair. Bend the ends of the band in as if you were going to do a bun, but don't bend in the whole way. Gather the bottom portion of your hair into a ponytail and secure with a clear elastic. Then, wrap the bun around the base of the ponytail, covering the elastic for a high fashion look.
Euro-Bun
This take on a regular bun is perfect for a formal event, or any time that you need to show off your fashion sense and sophistication. At first glance, it may look like the basic bun, but it has a little more flair that you can do easily. Sandwich your hair in the band and slide all the way to the bottom of your hair. Start rolling hair up instead of under the the hair, so that you get a different effect. When you reach the nape of your neck, cross the ends of the band in so that you create a bun with ends that are tucked. Fan the hair out to make it look more full and you're ready for anything.