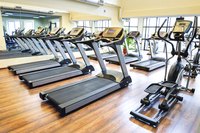 When it comes to naming a fitness-related business, target market and services are the most important factors. The name you choose should tell potential clients something about your business and the products or services your business provides. Brainstorming sessions are vital for generating a list of ideas that work to attract the right clients and reflect your long-term vision.
Using Your Personal Name
A strategy where you append a fitness-related term to your name is one possibility. This is a quick way for a sole proprietor to come up with a business name. Depending on your focus and long-term goals, this is also a cost-effective way to promote a personal brand. However, it's important to consider what may happen in the future before deciding to use a name such as Mike's Personal Training Center. For example, if you decide to sell your business, it may be more difficult to sell the business if your name is an integral part of the brand.
Additional Naming Strategies
Create a profile for your target customer and refer to it when choosing a business name. For example, a name such as Community Fitness will speak to a larger audience, while gender-centered names such as Iron Man Training Center and Dancing Divas Aerobics Center speak to a more specific clientele. Another strategy is to hint at services your business offers in the business's name. For example, names such as CoreFitness Training, Performance Fitness Center and The Body Shaper all give potential clients an idea of what type of services they might expect.
Cautions
Be careful about being either too generic or too specific when choosing a business to avoid confusing or alienating potential clients. For example, a generic name such as The Exercise Room might not be descriptive enough if you also provide nutritional counseling. In the same way, a business name such as The Iron Man might scare away potential clients interested in exercising only for fun. In addition, consider how expensive it might be to establish a brand identity and market your business if you choose an off-the-wall name like The Jungle Jim.