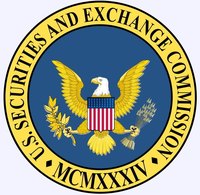 The Securities Act of 1933 and the Securities Exchange Act of 1934, passed in the wake of the Great Crash of 1929, are the principal securities laws enforced by the Securities and Exchange Commission (SEC). Among the rules encoded in those laws are restrictions against unreported insider trading. SEC Form 4 is used by corporate insiders to report their transfers of company-related stock or derivatives in accordance with the law.
When and Where to File
SEC Form 4 is used to declare changes in beneficial ownership of securities or derivatives of a company by insiders of that company. An insider is defined any director, officer or owner of more than 10 percent of any class of shares (common, preferred, and so on.) in the company. Beneficial ownership includes stock owned in one's name as well as indirectly through trusts or other arrangements (as defined in Section 13 of the Securities Exchange Act of 1934 and Rule 16a). Even after termination of insider status, the obligation to file Form 4 can persist (pursuant to Rule 16a-3(f)). The form must be filed electronically with the SEC's EDGAR system before the end of the second business day following the day on which the change in beneficial ownership occurred.
Reporting Securities and Price
An insider or other person obliged to file Form 4 must do so for any non-exempt transfer of any company stock or derivatives (such as stock options), even if the securities themselves are a class exempted from registration under Section 12 of the Securities Exchange Act. The class of shares must be clearly identified on the form, and, when reporting transfers, both the price received per share and the aggregate price of the transaction must be reported. If consideration other than cash was received, a description including value must be included. The remaining number of shares beneficially owned after the transaction must be listed in column 5 for each transaction, and can be listed in either number of shares or face amount (if bonds or other debt).
Transaction Codes
Column 3 of Form 4 is used to record the nature of the transaction. The space is suited only for the entry of the appropriate code, which are grouped by type. P (for open market or private purchase of stock), S (open market or private sale of stock) and V (for voluntary early reporting of a future transaction) are the general transaction codes. Transaction reportable under Rule 16b-3 are coded as either A (grant or award), D (sale back to the issuer), F (payment of fee or tax through transfer or withholding of securities), I (discretionary transaction, like a market order), or M (exercise of stock option conversion). Additional codes exist for other types of transactions.