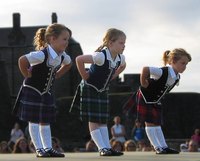 The Scottish kilt is a popular garment all over the world. Historically, Scottish men and women wore kilts in patterns and colors that identified them as belonging to a particular clan. Today, however, women everywhere have adapted this knee-length plaid skirt as a versatile part of the modern wardrobe, adapting it for casual or formal wear.
Traditional Scottish Dress
The modern Scottish kilt evolved from a medieval garment called the arisaid, a skirt and cloak combination that was belted and worn over a linen chemise. Although you might still see an arisaid at a Renaissance fair, the version worn today is a simple knee-length plaid skirt, usually made of wool. Traditional Scottish dress pairs this wool skirt with a white blouse and a close-fitting black sleeveless vest.
To find a blouse that looks like something a traditional Scottish woman might wear, look for a white or off-white blouse with loose, flowing sleeves and an open collar. Fabrics like linen or cambric work well, although you may want to wear a camisole beneath a blouse that's thin enough to be semi-sheer. If you're shopping a department store, look for a white oxford blouse with decorative detailing such as a ruffled placket or puffed sleeves. The black vest need not have all the ornamentation shown in this image; it can be quite plain, as long as it is close-fitting and sleeveless. A good modern equivalent would be the vest of a women's three-piece suit.

A Casual Look
For a more casual and contemporary look, you could pair a simple knit turtleneck or t-shirt with your kilt. For inspiration, imagine the outfit Sharon Stone wore to the Academy Awards in 1996. She paired a formal, flowing skirt with a close-fitting tee from the Gap. Follow her lead by looking for a solid color top that skims the body. Short or long sleeves would work, depending on the season. If you'd like to wear bracelets, opt for short sleeves.
A plain t-shirt can also create a cool, contemporary vibe when worn with a kilt. For a punky look, choose a t-shirt with longer length and wear it untucked over your kilt. Add a neutral (brown or black) belt, and play with proportion. Wear the belt at your natural waist to emphasize your shape, or wear it at your hips for a deconstructed, effortlessly casual look.
The Kilt as Formalwear
Kilts can be worn anywhere---even to a formal gala. In 2006, Sarah Jessica Parker wore an Alexander McQueen dress with exquisitely draped plaid tartan to the Costume Institute Gala at the Metropolitan Museum of Art. The dress featured a one-shoulder swath of tartan, fitted bodice and fluffy tulle underskirt. You can easily adapt this look for a prom, special event or wedding.
Look for a solid-color top that resembles a corset. The outfit will look best if the color contrasts with the main color of your kilt---black always works well, but don't be afraid to pull out one of the minor colors in your tartan. If you're uncomfortable showing cleavage, try a top shaped more like a tank to provide modest coverage. It should still be close-fitting, however, and the fabric should have a shine or texture to it, such as satin, silk, taffeta, velvet or shantung.