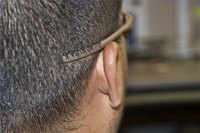 Tapered hairstyles have remained, in one form or another, in style for decades. Whether it be a man's traditional tapered cut or a sassy woman's short style, a tapered hairstyle speaks of clean, simple lines. There are many variations to the tapered cut, so you're bound to find one that is well suited to you.
Men's Cuts
A traditional men's haircut includes a tapered nape area. Blend the length of the taper to match the length and style of the hair on top. If a man's hair is left longer on top, make the taper at the back slightly longer to avoid a defined line where the two dramatically different lengths meet up.
Alternately, taper the hair at the back very short if the hair on top is also cut short. The goal is to make the back proportionate to the top's length. Use clippers to go shorter than a half inch in the tapered area. This is a very popular style as it looks clean and professional and the back is often squared off in a straight line at the bottom of the hairline. The hair from the top should meet and completely blend into the short taper at the bottom with no visible lines anywhere on the head. Use styling gel or pomade to spike up the top layers for a trendy look.
Variations
For military members or men with irregular hairlines, trim the taper all the way down and don't square off the back. This is often referred to as a "shadow." This taper only works well when the taper itself is taken very short; at most a quarter inch in length.
There are also some men's tapered hairstyles where the top and back do not blend. These are often referred to as "mushroom cuts" or "skater cuts," which were very popular in the 1990s but have mostly faded out of use after the year 2000.
Ladies' Cuts
Taper the bottom of a woman's cut when you're having it styled into a cropped or pixie-type cut. How short you have your hair tapered will depend on how short the hair on top is cut. Generally women do not have their hair tapered so short that the clippers need to be used but, occasionally, they are used. Use clippers to taper your hairstyle only if your hair is very thick; otherwise, the cut will look too masculine. Be sure it blends well with the top length, which will have to be cut quite short. Use a styling wax or hair gel to style and separate the top layers.
Softening the Taper
Soften a woman's taper cut by leaving longer wisps at the bottom hairline and in front of the ears. This creates a more feminine taper by avoiding the harsh, straight lines of a traditional men's taper cut.