One of the best ways to increase your credit rating after a bankruptcy or if you have a very low credit score is to get a secured credit card. Secured credit cards are like debit cards, but the secured credit card company reports to one or all three of the credit reporting bureaus, which can rebuild credit and increase credit scores.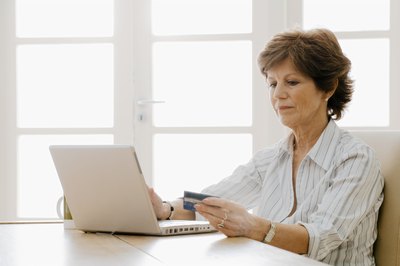 What Is a Secured Credit Card?
Secured credit cards are credit cards that are secured by a deposit account, such as a savings account that belongs to the cardholder. The credit line that is allowed for a secured credit card is established by the amount of money that is available in the bank account. Credit limits can be as low as a few hundred dollars or as high as you want it to be as long as you have matching funds in the account. Deposits range from a few hundred dollars to a few thousand dollars, depending on the card. Most banks offer secured credit cards, such as Wells Fargo, Chase and Bank of America.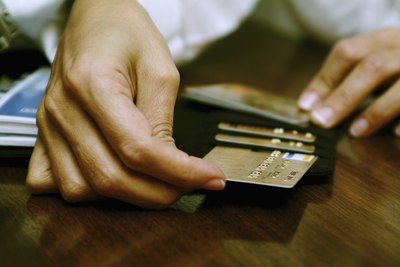 What to Look For
Read the eligibility requirements for the card you are considering. If you have filed for bankruptcy very recently, you may not be eligible for a secured credit card. Make sure that the secured credit card reports to at least one of the three major credit bureaus so that you can rebuild your credit score. Be aware of sky high interest rates and other unreasonable fees. Just because a secured credit card is the only card that you are eligible to get does not mean that you don't have options for better interest rates and low service fees. If you continually use the secured credit card and make payments on time every time, you will build your credit score in no time and may even be able to move up to an unsecured card in just a few years. The secured card will help rebuild your credit if it reports your credit limit to the bureaus, no matter how high or low it is. This is because credit scores are based on the current total balance of your credit card divided by the current total credit limit, which equals the debt ratio. The best scores are given to customers who have used 20 percent or less of the credit limit that is available to them. Make sure that the card you get is not reported to the bureaus as a secured card. If the bank reports to the credit bureaus that you are using a secured card, your credit score will be negatively affected, whether you pay on time or not. Websites that list the best secured credit cards are www.bankrate.com and www.Credit.com. Just make sure to look for credit bureau reporting, credit limit reporting and non-disclosure of the card being a secured credit card. If you look for three these things in your secured card and pay on time, your credit will be in good standing before you know it.