Shoulder impingement syndrome, also known as rotator cuff tendinitis, is an inflammation and swelling of the tendons in the shoulder. In addition to resting the arm associated with the problem and possibly having arthroscopic surgery to remove any bone spurs or inflamed tissue, there are a number of physical therapy exercises that can be performed to speed the way to full recovery.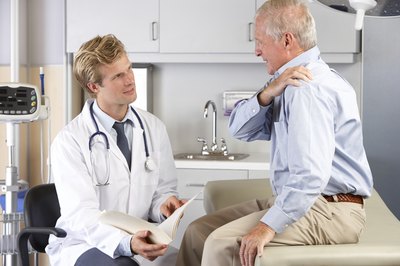 Avoid Painful Activity
The first rule of rehabilitating a shoulder impingement is to avoid activities that cause the shoulder pain, according to Athleticadvisor.com. While exercising the shoulder will ultimately be beneficial to the injury, exercising is probably what caused the problem to begin with. Baseball, swimming and weightlifting are activities that will have to be avoided until the healing is done.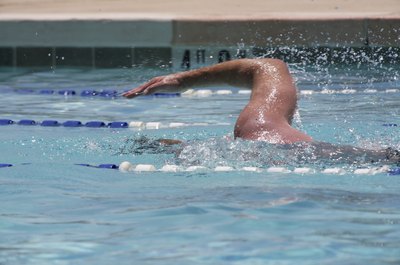 Range-of-Motion Exercises
There are a number of range-of-motion exercises that will help ease you into rehabilitation. Among the exercises recommended by The Sports Medicine Specialists at Athleticadvisor.com are pendulum swings, corner stretches and the chicken.
Pendulum swings are done by leaning over the edge of a table, supported by the uninjured arm. Let the affected arm swing loosely and relaxed in circles both clockwise and counter-clockwise and in a pendulum motion from side to side. Repeat 30 times in each direction.
Corner stretches are done by placing your forearms against the walls on each side of a corner. Slowly lean into the corner with your head and chest and hold five to seven seconds. Repeat 10 times.
The chicken is an exercise done by placing your hands behind your head with elbows pointing outward. Pull the elbows behind you as far as possible without causing pain and hold the stretch for five to seven seconds. Repeat 10 times. These exercises should be performed two or three times per day.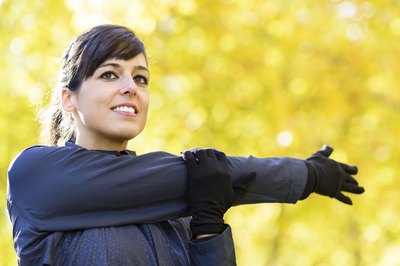 Strength Enhancing Exercises
Less often, The Sports Medicine Specialists recommend strength exercises. These exercises include supine presses, seated dips and bicep curls. They should be performed three times per week, and the weights used shouldn't exceed seven pounds.
A supine press is done in much the same way as a traditional bench press, but without weight. Simply lie on your back with your elbows at your side and arms bent, so your forearms are extended and palms are out toward the ceiling. Imagine you are holding a flat object above you in your hands and raise your arms straight up as if pushing the object away from you. Hold for a few seconds and return to the starting position. Complete reps of 10 in several sets, but not so much as to cause excessive strain. Start with two or three sets and work your way up.
Seated dips are done sitting in a chair with your hands gripping the seat on either side. Lift your buttocks off the chair with your arms, hold for three to five seconds and slowly let yourself back down. Perform two or three sets of five dips and gradually add more sets.
Bicep curls can be done with or without weight depending on the progress of your rehabilitation. Start with your arms at your side and palms facing forward. Bring arms up as far as possible, holding then returning to the starting position. Do not use dumbbells in excess of five pounds, and begin with two to three sets of 10 curls, increasing as your condition improves.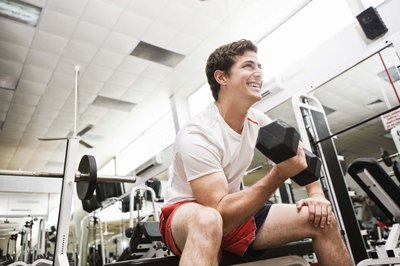 Ice
It is recommended that shoulder impingement sufferers ice their shoulder before and after exercise and after any activity that causes pain to the affected area, according to Athleticadvisor.com.