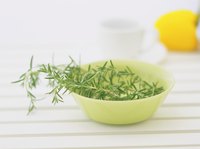 If you are trying to drop a few pounds, certain herbal remedies may aid the process. Through the ages, herbs have been used by many cultures to treat weight-related conditions. There is no magic pill to melt away excess weight quickly. However, combined with a healthy diet and regular exercise, some herbs should help with managing your weight . Never mix herbal remedies with your prescription medications. Before taking any herbs or herbal supplements, discuss your weight-loss plans with your doctor and your dietitian.
Increasing Your Metabolism
Some herbs act to increase your metabolic rate, or energy production and use by your body, by stimulating your central nervous system. They may act to speed up several of your body's internal functions, such as breathing, digestion, blood pressure and circulation. This effect can result in weight loss for you. For example, cayenne pepper increases your metabolism while depressing your appetite, states Phyllis A. Balch, author of "Prescription for Herbal Healing." Yerba mate, or Paraguay tea, is a powerful central nervous stimulant used in some weight-loss products. However, neither has been proven to be effective for weight loss. Consult your physician before taking cayenne or yerba mate because they can be dangerous when taken in high doses.
Influencing Your Appetite
Herbs can aid your weight-loss efforts by affecting your appetite so that you aren't as hungry or by making you feel full so you won't want to eat as much. A cup of green tea before meals may act as a mild appetite suppressant. Guar gum and glucomannan both have a high soluble fiber content. Soluble fiber absorbs water from your digestive tract and expands, making you feel full. Use these herbal products only under your doctor's supervision, as Cleveland Clinic warns soluble fiber can become too bulky in your esophagus or intestines, causing a serious blockage. Garcinia, or Garcinia cambogia, is a popular herb used for its appetite-suppressing properties, but more studies are needed to determine its effectiveness.
Diuretic Properties
The diuretic effects of some herbs may also help you lose weight by increasing urination. However, water loss by increased urination is not true weight loss. The common dandelion weed possesses natural diuretic effects, and you can add its leaves to a salad or enjoy it as a tea. However, if you are allergic to ragweed, daisies or chrysanthemums, you may also be allergic to dandelion. Guarana has both diuretic and stimulant effects, but taking it can result in high blood pressure and interfere with your blood's ability to clot. Never use any herbs for weight loss without discussing their properties with your doctor first, especially if you are nursing, pregnant or have a serious medical condition.
Considerations and Warnings
Herbs and herbal supplements by themselves don't result in permanent weight loss. Commit to a permanent diet and exercise plan if you wish to sustain your weight loss. Never combine herbs or herbal supplements with your prescription medications. Cleveland Clinic warns that herbs can produce side effects and dangerously interfere with your other medications. Don't take herbs for weight loss if you are pregnant, nursing or have serious health conditions, such as heart disease, high blood pressure or diabetes.