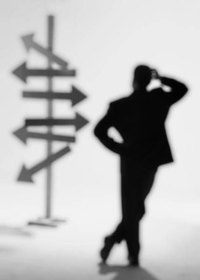 Managers are pulled in different directions constantly. They are tasked with ensuring their managers are updated on their activities, the work of the organization is done and their employees' needs are met. Managers make decisions each day that can positively or adversely affect the goals of an organization.
Define the problem
Before making a decision, the manager must define the problem. Separate the problem from the symptom. Ask questions such as: When does the problem occur? What is the impact of the problem? and What are the inputs into the problem? The manager must specifically ask how the issue affects the business, the customers and the employees. For example, a symptom is the recall of vegetables because of E. coli. The problem may be the improper storage and cleaning of vegetables. Inputs into the problem are storage facilities and cleaning procedures. The business is affected because of lost revenue, customers are affected because they get sick and employees spend their day fielding customer complaints.
Identify solutions
By thinking creatively, managers can identify solutions to problems. One of the first actions a manager should take, as appropriate, is to garner ideas from her employees. The employees are on the front lines of a problem and have more tactical familiarity with a problem because they are performing the work. For in-depth problems such as IT issues, solicit the input of senior and newer employees and create a project team. Work with the team to identify and implement solutions. For less-involved, more immediate problems (e.g., rude customer service representation), identify win-win solutions that benefit the company, employees and customers. In the case of customer service, provide feedback to the employee to improve future work performance and have the representative apologize to the customer to acknowledge the error.
Implement solutions
Managers are responsible for ensuring the best solution to the problem is implemented. They must determine the tools, methods and people needed to resolve the problem. In addition, managers work to gather these resources to spearhead the implementation of the solution. Using the vegetable recall example, a possible solution is to enhance cleaning and storage procedures. The needed resources include: stronger food cleaning solutions, government regulatory rules for food storage and the company responsible for the vegetable transport.
Follow-up
A manager must audit his decision-making skills by following up. Questions to ask are: Did the solution work? Did the solution create another problem? What was learned through the process? How can the key learnings be used to help others?