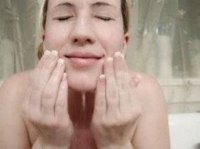 Blackheads are unsightly and difficult to get rid of, but you can use natural techniques to diminish them and eventually, remove them forever. Slight changes to your skin-care regimen can have a huge impact on your skin quality, but you should be prepared to invest in a few inexpensive and easy-to-use products to help you get your problematic skin under control. A trip to the beauty aisle of your local grocery store should get you all the supplies you need to naturally remove blackheads without intense professional treatments.
Cleanse
Purchase a mild cleanser, without oils, intended for use on the face. Never use a hand wash or bar soap to clean your face as this can cause irritation and over-drying. Keeping your skin clean prevents dead skin from building up and creating the blocked pores that lead to trapped dirt and blackheads. Wash your skin at least twice a day using gentle, circular motions. Be sure to use an exfoliation pad with your face wash, or cleansing, facial scrub once a week to remove dead skin.
Mousturize & Tone
Purchase an oil-free moisturizing lotion, intended for the face, and a nondrying or pore-refining facial toner. Choose a product that is designed for problematic skin or that advertises assistance with oily skin, as overproduction of skin oils can be a primary cause of blackheads. Look for products that use natural ingredients and avoid harsh chemicals. After cleansing, use a cotton swab to apply toner evenly to the face. When the toner dries, use your clean hands to apply moisturizer to your face. Use small, gentle, circular motions to rub the lotion onto your skin but never tug or pull, especially at the sensitive areas surrounding your eyes.
Treat
Buy pore strips, an oil-removing mask, and be sure that if you are a makeup wearer, your makeup is natural and safe for the pores. Fill a bowl with steaming water from a tea kettle and, placing a towel over your head, bring your face within a foot of the steaming water. Use the towel to lock in the steam and open pores. Follow with pore strips for your T-zone and problem areas, including your nose, forehead, cheeks and chin. Use an oil-removing mask once a week to control oily areas of your face; follow by cleansing with your facial wash, and your toner and moisturizing routine.