Surprising the man in your life with a cake he will love during any celebration honoring him---from his birthday to a promotion, retirement or just because---isn't that difficult if you use something special to him as inspiration. For instance, use fishing, hunting or both if those are his hobbies. Once you choose the basic theme, decide on a flavor, then figure out how to best decorate the cake to reflect his personality.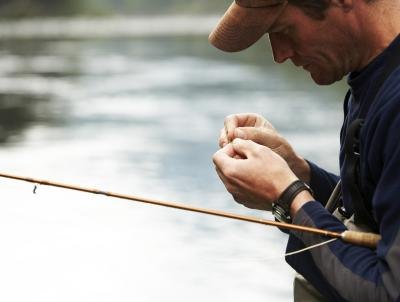 (Thomas Northcut/Lifesize/Getty Images)
If a woman in your life is an avid fisherwoman, decorate the cake with a pond or lake and fish. The cake can be any shape and include plastic toys, cake toppers or decorations made of icing or fondant. Use a boat with a fisherwoman in it. Use a small section of line or a piece of string to connect the fish to the pole. Fish can be placed on top of the water, or fashioned to look like they are being pulled out of the water by only showing the top half of the fish. Create a shore with candy rocks or mud made out of chocolate pudding or cookie crumbs. Cattails and other common shore plants can be added. Use a tiered cake to create a pier in which the fisherwoman could be fishing off of. If possible, use decorations to depict the kind of fishing she does, whether it's deep sea fishing, from a pier or off of a boat. Use her favorite fish if you can, including bass, salmon or halibut.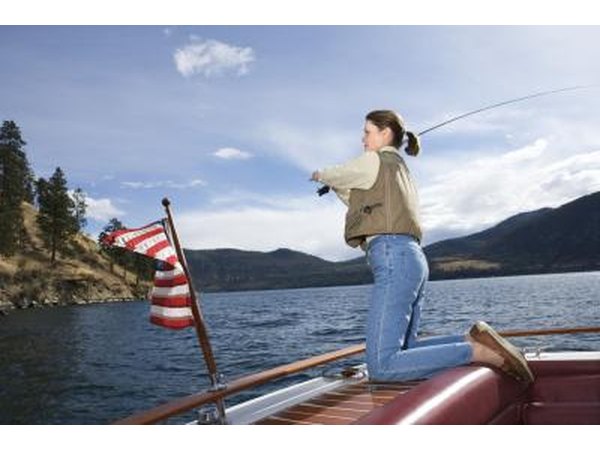 Jupiterimages/Comstock/Getty Images
For the hunter in your life, create a large cake and use plastic figures or create your own with fondant and sugarpaste icing. Include trees, high brush, rocks and a stream on top of the cake using the decorations and different colors of icing. Strategically place wildlife around the hunting grounds you have created, particularly his favorite game. For an especially momentous celebration, consider having a custom cake topper made to depict his likeness holding his favorite hunting rifle. If he has a faithful hunting buddy in his dog, include a figure representing the pooch as well.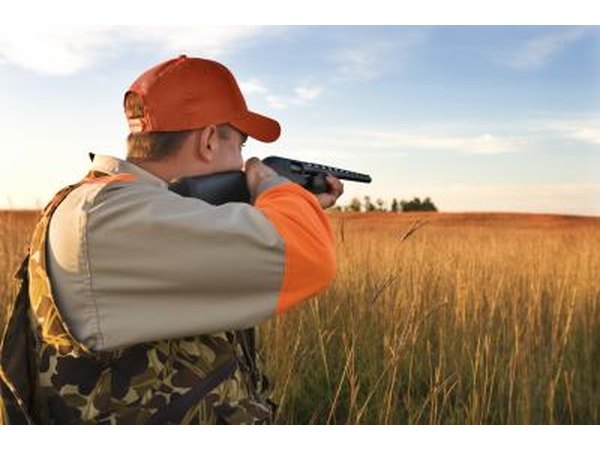 Jupiterimages/Comstock/Getty Images
For the person who enjoys fishing and hunting, devote a cake to both activities. You could use a square cake, separated in a diagonal shape. One triangle can depict the hunting aspect and the other can show fishing. Another idea is to create a large lake on one side of the cake with woods on the other. Decorate fish coming out of the water and wildlife around the woods. The human figure can be standing on the shore with a fishing pole and hunting rifle. Or, have two figures placed back to back with one holding a fishing pole and the other a rifle. You could also place a figure in the boat over the lake holding a rifle pointed at some wildlife on the shore.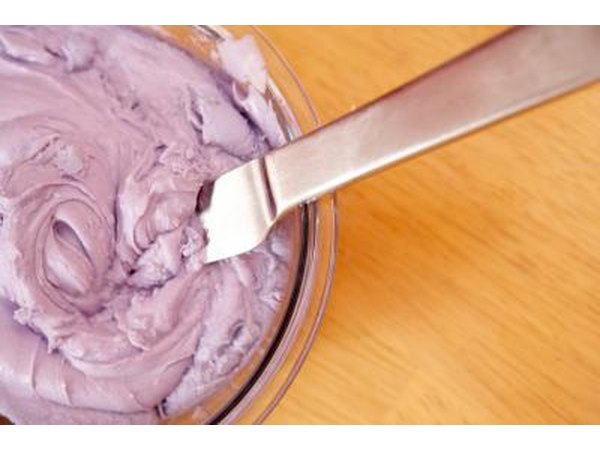 Jupiterimages/Photos.com/Getty Images
Promoted By Zergnet