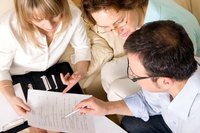 Internal Revenue Service Form 1099-B documents securities transactions, such as the sale of stocks or bonds, that investors must report on their tax returns. The 1099-B is also used to document sales made as a member of a barter exchange. Brokers and other financial institutions have until January 31 to send 1099-Bs to recipients, although the IRS sometimes extends this deadline. They must also submit all 1099-Bs to the IRS by the last day of February.
1099-B for Financial Institutions
Financial institutions prepare 1099-B forms as a spate of different documents or include them in consolidated tax reports that also list items like dividend and interest earnings. A 1099-B identifies the asset sold, the date of the sale and the investor's account. The sale proceeds are listed along with the cost basis. Cost basis is the expense of purchasing the asset. Some of the information that preparers may include is intended only for the IRS, such as the particulars of certain futures transactions. The taxpayer needn't concern herself with this material.
1099-B for Taxpayers
An investor might receive multiple 1099-Bs because, with the exception of consolidated tax reports, each 1099-B reports the proceeds of just one sale. When you prepare your taxes, use IRS Form 1040, Schedule D to report the profit or loss from the sale along with all other capital gains or losses for the year. Attach the 1099-Bs to Form 1040 when you file your taxes.