Gas grills are widely loved for their convenience and ease of use, but serious grilling aficionados remain loyal to charcoal and its old-school charm. Although charcoal doesn't provide immediate heat, as gas does, it's usually ready to use in as little as 30 minutes. That's plenty of time to organize your side dishes and set the table, so you'll be ready to eat as soon as your steaks are cooked.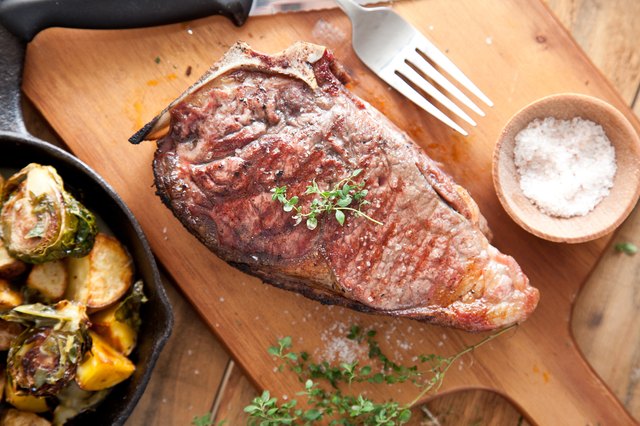 (Kristyn Robertson/Demand Media)
• The quality of your charcoal has a direct bearing on how well your steak cooks, so give it some attention. Lump charcoal is a premium option, and it comes as irregular-sized pieces of charred wood that burn with a clean flavor and high temperature. • The familiar, evenly-shaped briquettes of charcoal are pressed from ground-up charcoal and provide a more consistent, predictable burn. • Avoid brands that are impregnated with petroleum-based starters -- their smoke is unpleasant, and they can give your steaks an "off" flavor -- and instead opt for a premium quality conventional briquette. • Stick with the same brand, for consistency's sake, until you've mastered your grill's quirks and can compensate for any differences in how the coals burn.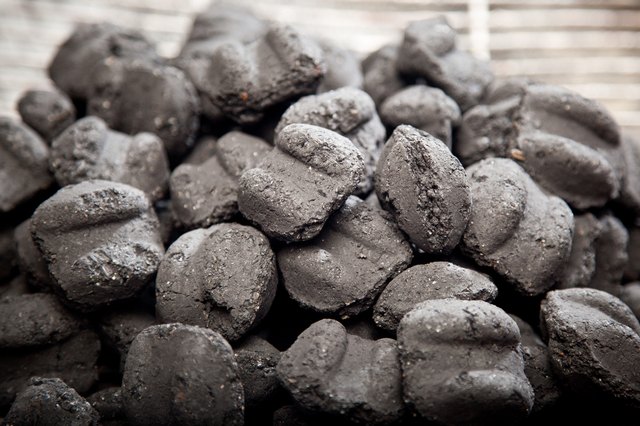 Kristyn Robertson/Demand Media
The best way to start your coals is usually in a chimney starter, which resembles an oversized beer stein.
Put your charcoal in the top, light a few pieces of newspaper in the bottom and in just minutes, your coals are evenly ignited.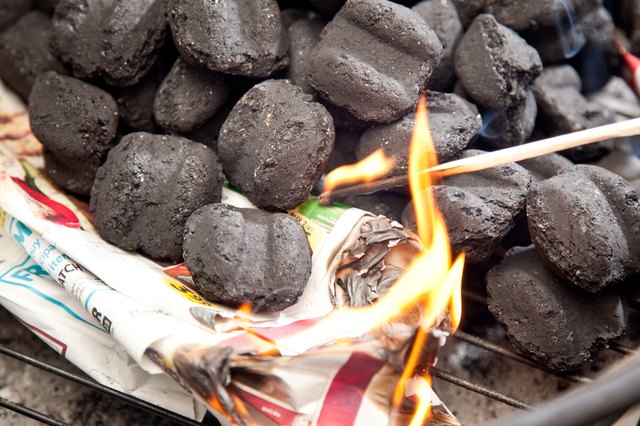 Kristyn Robertson/Demand Media
For quick, hot grilling -- best for thin steaks -- you'll spread the coals in an even bed across the bottom of your grill.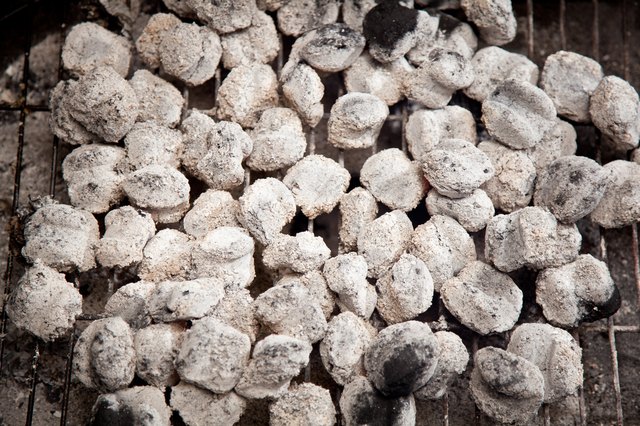 Kristyn Robertson/Demand Media
For thick steaks, build the fire on just one side of your grill, leaving the other side unheated. When the briquettes have a fine, even coat of ash, it's time to start grilling.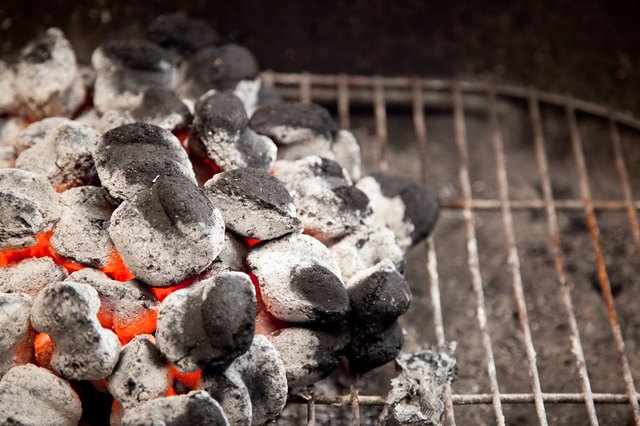 Kristyn Robertson/Demand Media
Ordinary workaday steaks from the supermarket are usually an inch or less in thickness, and often just ½ inch to 3/4 inch, and getting the exterior perfectly seared without overcooking the interior requires high heat.
Adjust the grill's draft until your grill reaches a temperature of about 450 degrees Fahrenheit, or up to 550 F for very thin steaks.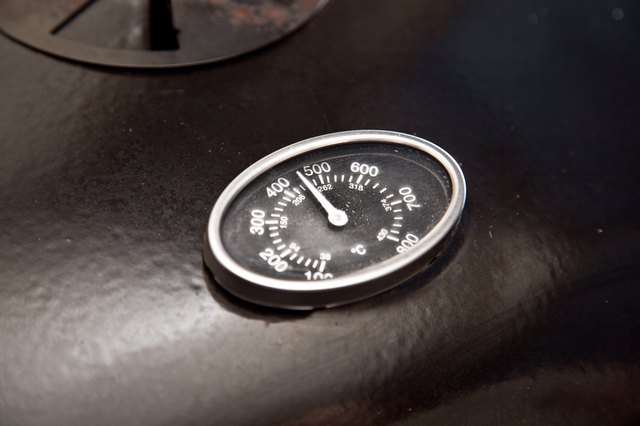 Kristyn Robertson/Demand Media
You won't usually be able to brown both sides perfectly without creating a well-done steak, so concentrate on giving the first side a good sear.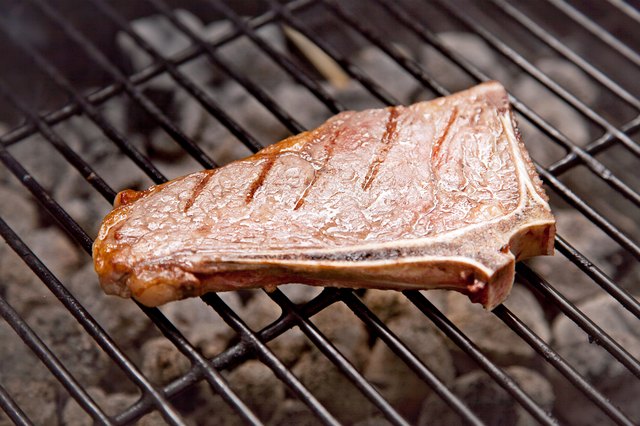 Kristyn Robertson/Demand Media
Then, turn the steak and cook it just briefly -- a minute or two -- on the second side until its internal temperature reaches 130 F for medium-rare.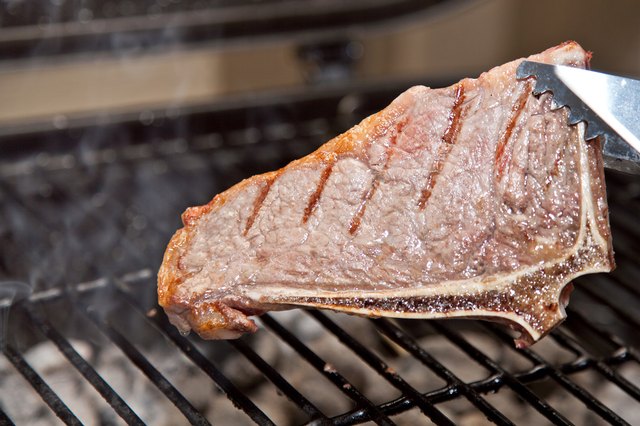 Kristyn Robertson/Demand Media
Thicker steaks have the opposite problem, in that it's difficult to cook them in the middle without overcooking the exterior. To counter this, start your steaks on the unheated side of the grill.
Close your lid and adjust the grill's draft and vent until it reaches a temperature of 325 to 350 F. Cook your steaks gently until their internal temperature reaches 120 F -- 115 F if they're very thick.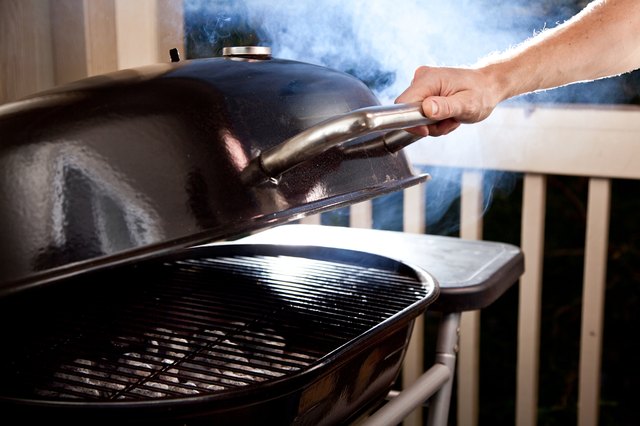 Kristyn Robertson/Demand Media
Open the lid and the draft and bring your coals to the highest temperature you can muster.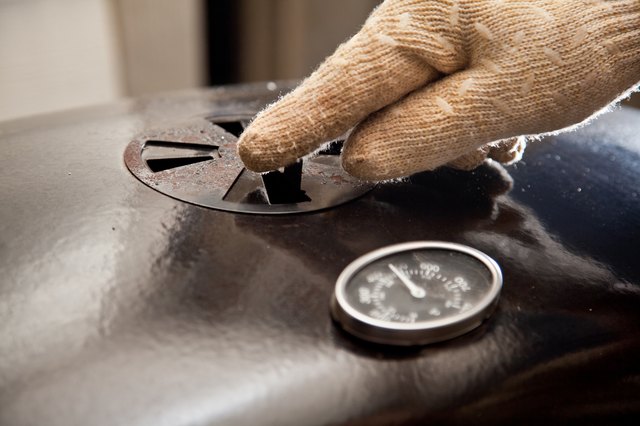 Kristyn Robertson/Demand Media
Sear the steaks for a minute or two on each side, until well-browned, then remove them from the heat and let them rest. Their internal temperature will continue to rise, and should bring them to a perfect medium-rare of 130 F.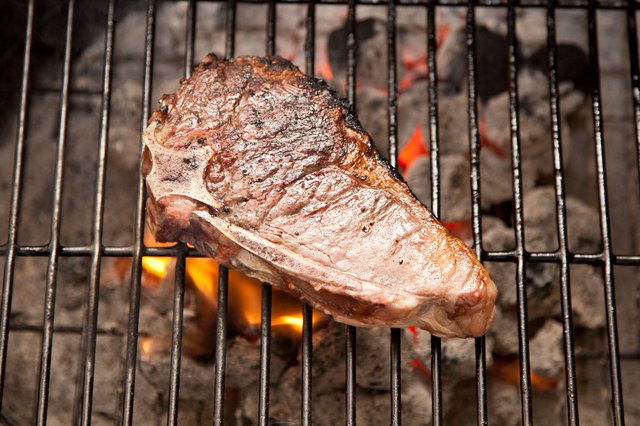 Kristyn Robertson/Demand Media
Promoted By Zergnet