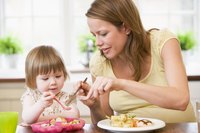 You have every reason to celebrate that you're finally pregnant, but you still need to make smart choices, especially when it comes to your diet. As a woman with polycystic ovary syndrome, or PCOS, you're at greater risk of developing pregnancy-related complications such as gestational diabetes and pre-eclampsia, or pregnancy-induced hypertension. Taking charge of your diet at the get-go may help prevent any problems and help you enjoy a healthy pregnancy. Consult your doctor or dietitian to discuss your specific diet needs.
Control Calories
Weight gain is expected during pregnancy. But if you're starting out overweight or obese, it's important that you stay within the weight gain guidelines of 11 to 25 pounds for a single birth, or 25 to 50 pounds for twins, during the nine months to reduce your risk of complications. Eating the right number of calories can help.
Calorie needs are individual, but in general, a pregnant woman only needs to eat approximately 300 extra calories a day during the second and third trimester, according to the American Pregnancy Association, and daily needs may range from 2,200 calories to 2,900 calories a day. Talk to your dietitian or doctor to help you determine your calorie needs during pregnancy to promote a healthy weight gain.
Control Carbs
Due to your increased risk of gestational diabetes, it is recommended that you eat a carb-controlled diet, similar to the gestational diabetes diet, throughout the course of your pregnancy. That means 35 percent to 40 percent of calories from carbs. On a 2,200-calorie diet, you need 770 to 880 calories from carbs, or 190 to 220 grams of carbs a day.
Most of the carbs should come from those high in fiber, such as whole grains, and the carbs should be evenly distributed throughout the day into three meals and two snacks. Each meal and snack should also contain a protein-rich food, such as low-fat cheese, lean meat or tofu, to help keep blood sugars steady, says a 2008 article published in Today's Dietitian.
Sources of Carbs
Carbohydrates are found not only in grains but also in milk, yogurt, fruits, starchy vegetables such as potatoes, peas and corn, pasta, beans, split peas and lentils. You can track and count carbs using the food label.
The American Diabetes Association also has a carbohydrate list with common servings and carb content, with each serving containing 15 grams of carbs. For example, 1 cup of milk, a small piece of fruit, one slice of bread and 1/3 cup of cooked rice or pasta each contains 15 grams of carbs.
Nutrients for Pregnancy
In addition to controlling carbs, it's also important that you eat nutrient-rich foods to meet your elevated vitamin and mineral needs, especially foods rich in calcium, iron and folate. Milk, yogurt, eggs, almonds, leafy greens and tofu are good sources of calcium. Good sources of iron include leafy greens, meat, seafood and poultry.
Pregnant women need adequate intakes of folic acid to prevent neural tube defects, so be sure to up your intake of folate-rich foods such as leafy greens and tomatoes. Folate is also found in carb-containing foods such as fortified whole-grain bread and pasta, legumes, oranges and strawberries.
Sample Meal Plan
For a 2,200-calorie diet, each meal contains 60 grams of carbs and each snack 15 grams.
A healthy carb-controlled breakfast might include two slices of whole-wheat toast with 2 tablespoons of peanut butter, 1 cup of low-fat milk or milk alternative and a small apple. In the midmorning, snack on 3/4 cup of unsweetened whole-grain dry cereal with 10 walnut halves.
A turkey sandwich made with 3 ounces of lean turkey meat stuffed into a 6-inch whole-wheat pita and served with a container of fat-free, sugar-free yogurt, 1 cup of sliced cucumbers with 1 tablespoon of vinaigrette and 3/4 cup of fresh blueberries makes a healthy lunch option. A midafternoon snack might include 1 ounce of low-fat cheese with five whole-grain crackers.
For dinner, consider sauteing 1 cup of tofu or 3 ounces of shrimp with 2 cups of mixed vegetables such as broccoli, carrots and bok choy with low-sodium soy sauce and 1 tablespoon of vegetable oil, and serve it with 1 cup of brown rice mixed with 1/2 cup of black beans.