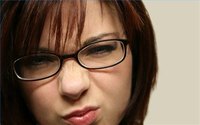 Face toning exercises are controversial because they have not been approved by the U.S. Food and Drug Administration, nor have there been any scientific studies proving that they do work. Most facial toning programs and websites, however, do contain before and after photos that offer impressive results. If you would like to give facial toning exercises a shot, there are a few exercises that you can do in your own home.
Forehead Wrinkle Exercise
If you have wrinkles on your forehead, they can be eliminated by gently rubbing the area surrounding your forehead. Using your pointer finger on each hand, gently feel the area where your forehead meets your hairline. Press firmly on this area and drag your fingers towards your hair, stretching the skin on your forehead. Hold this position for 30 seconds to one minute. Repeat throughout the day, whenever you think of it--at least three times an hour. Eventually, the wrinkles in your forehead will be eliminated.
Neck and Mouth Exercise
If small wrinkles are appearing around your mouth or you are experiencing neck sagging, this exercise will target both areas. Open your mouth as wide as you can without your jaw popping or clicking. Lift your head up so you are staring at the ceiling and the skin on your neck is pulled taut. Make chewing motions with your mouth, as if you were eating a sandwich, while still staring at the ceiling. Chew 20 times, then release. Repeat three times a day to eliminate wrinkles around the mouth and on the neck.
Cheeks Exercise
Keep your cheeks toned and wrinkle-free by doing these exercises on a regular basis. Puff your cheeks with air. Breathe through your nose as you hold the air in your cheeks for 30 seconds. Lift one end of your mouth as if you were smiling, then release. Lift the other side of your mouth as if you were smiling with that side, then release. Repeat the exercises 10 times. This exercise will smooth the wrinkles on your cheeks and firm up the muscles around your cheekbones.