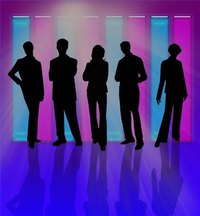 Successful businesses pair the most beneficial organizational structure to their personnel, divisions and communication framework. A tightly paired organizational structure can enhance productivity, ensure dissemination of important information and can allow for the free flow of ideas and business enhancing activities. Depending on your business needs, an alternative organizational structure could improve and enhance your business.
Network
A network organizational structure joins individual organizations to complete large, typically project-oriented activities. This type of structure lends itself to joint ventures with companies in other countries and to large construction or engineering projects. Each organization enhances their own structure to be responsive to network companies. Typically, managers and project specialists are dedicated to working in teams with similar functional positions in each company of the network. Consider using this structure if your company's success is tied closely to working with other companies.
Virtual
The ease of virtual connectivity has given rise to a virtual organizational structure. This structure is composed primarily of teams that communicate and respond to a manager that functions as a team leader and facilitator. A virtual organization can allow companies to leverage individuals from around the globe to perform company-enhancing projects or operations. This type of structure is best for a workforce of professional, self-managing individuals who do not need constant supervision. Consider a virtual organizational structure if you want to expand geographically, you need expertise not available in one business location or you rely heavily on off-site employees.
Self-Managed Teams
Self-managed teams are small groups of employees who focus specifically on one product or service. These teams are comprised of individuals who each contribute functional skills needed to provide a service or produce a product. The hallmark of this type of organizational structure is the lack of a single manager for the group. Members devise their own method of self-management, often through rotating managerial responsibilities. Consider this type of organizational structure if you produce technical products or deliver services that require a high level of problem solving skills. Provide a comprehensive layout of the team requirements, available resources and access to team building training to enhance the success of self-managed teams.