Indoor cycling, or Spinning, provides a high-intensity workout that will quickly burn calories and improve your overall fitness. While a class setting is the most common for this type of workout, many fitness centers have a bike or two sitting out on the main exercise floor. If you would rather not take a class, or just want to switch things up, hop on a bike and create your own workout.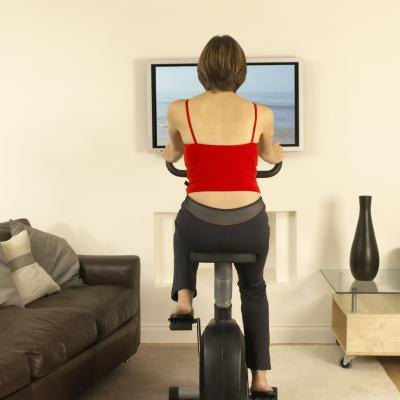 (BananaStock/BananaStock/Getty Images)
At the beginning of your workout you will want to gradually increase your heart rate to prepare the body for more vigorous activity. In a similar manner, a cool down at the end of the workout will help return your body to a resting state. One song for each the warm up and cool down is sufficient. During these times, set the resistance at zero to a level three. Cycle at a moderate pace during the warm up and at a slow pace during the cool down. A song that is upbeat such as "Love Generation" by Bob Sinclair or "Suddenly I See" by KT Tunstall is great for the warm up, while a relaxing song such as "Red Red Wine" by UB40 or "New Soul" by Yael Naim is good for the cool down.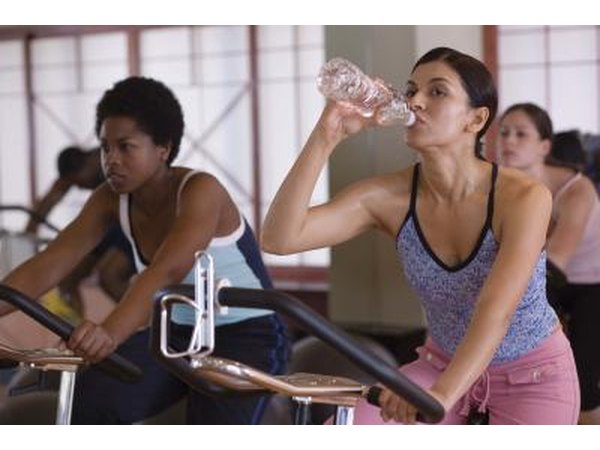 Jupiterimages/Stockbyte/Getty Images
Sprinting intervals are a great way to get the blood pumping. During these intervals set your resistance so that it is moderately challenging, a point where you can feel resistance on the pedal but you are still able to cycle very quickly, perhaps a three to a five depending on your level. Choose a fast-paced song such as "Single Ladies" by Beyonce or "So What" by Pink, then sprint for 30 to 60 seconds and recover for 30 seconds. Repeat this throughout the entire song. You can also gradually increase the length of the sprinting interval as you go along, starting at 15 seconds and increasing a little each time to reach 60 to 90 seconds.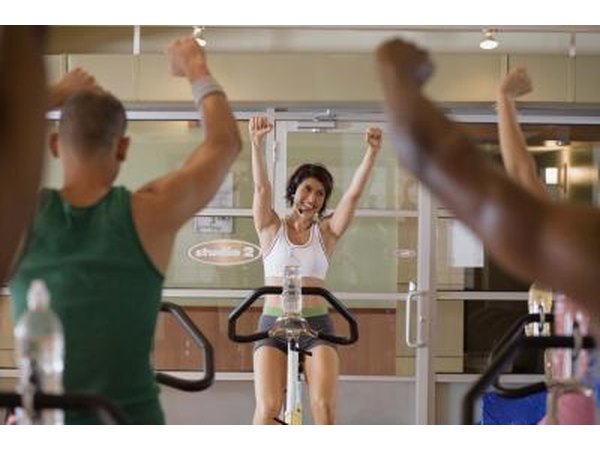 Jupiterimages/Stockbyte/Getty Images
Simulating hill climbing is a way to increase the heart rate while strengthening the legs. Choose a song such as "Sister Christian" by Night Ranger (which is older but ideal because it starts out somewhat slow and gradually gets faster, which will motivate you to push at the end). Start out with little resistance and every 15 to 30 seconds increase until you are almost to a level 10. Once you reach about a level seven, come up out of the saddle and make the climb a standing one. Once at the peak and when you feel you can't go any further, reduce the resistance and cycle quickly down the hill. You may want to choose a separate, fast-paced song for cycling down the hill.
jelop/iStock/Getty Images
Promoted By Zergnet