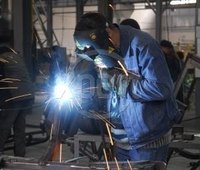 Accidents can happen anywhere and at any time. However, implementing some safety rules in high-accident areas can reduce the number of potential injuries. It's important to not only post your workshop safety rules, but to enforce them to reduce accidents and injuries. Following some workshop safety rules will make it a better and safer working environment for everyone.
Daily Organization
Trips and falls can be very common in workshops. There are often a large number of items that can cause injury. Make it a workshop safety rule to organize, de-clutter and put away items on a daily basis. Employees should pick up their area of the workshop, prior to leaving the workshop for breaks, lunch or the end of the shift. Provide a checklist that can be used to ensure nothing is forgotten for daily organization in the workshop.
Combustible Materials
Combustible items, chemicals and other hazardous materials should have individual storage areas within the workshop. If possible, they shouldn't be stored in the workshop area at all. These types of items should have storage locations that are away from grinders, welders and other equipment that could produce sparks. It only takes one stray spark to cause a very serious problem in the workshop.
Safety Equipment
Employees should be required to wear all the necessary safety equipment for their specific tasks. Everyone should wear steel-toe boots in a workshop. Provide safety goggles, safety masks, gloves, hard hats and other safety equipment items in the workshop for employees to use as needed.