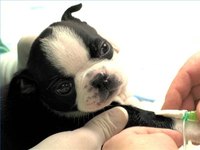 Interior decorating in veterinary offices is all about not only showcasing your love for animals, but also about making their owners comfortable. Whether a customer is bringing her pet in for a standard checkup, an illness or a more serious injury, the surroundings help a lot in keeping her calm and helping her feel reassured that her beloved friend is receiving the best care possible.
Fun Artwork
In addition to charts and advertisements that educate patrons about proper health care for pets, adding some fun around the establishment will actually get your clients to check everything else out more. Cartoons, whether in the form of prints or cut from the Sunday comics, will help lighten a worried owner's troubled heart. When thinking about interior decorating in veterinary offices, make sure to alternate the whimsical art with the charts and advertisements. This will keep people moving around the room and make it more likely that they will actually read the important stuff as well as the cartoons. Make sure your staff appears professional, but approachable. Wearing fun cartoon scrubs can help in this aspect.

Heartwarming Photographs
Ask your pet owners to bring in and share personal photographs on a bulletin board or collage wall. Seeing pictures of happy, satisfied customers will give new clients more confidence in your care of their beloved animals. Though the most important part of your job as a veterinarian is to educate people about proper animal care, the only way they'll trust your judgment is to trust you. Telling them about your experience can never go as far as when they see it for themselves. That is why personal touches are so important.
Testimonials
Any thank you cards, postcards or letters that you receive should also be displayed prominently--even from those who are grieving from the loss of a pet. Everyone who brings their animals to you for care knows that there will eventually come a time that they will face the loss of their friends. Letting clients see that others are appreciative of your services, whether you have saved a pet or had to make one comfortable at the end of its life, will show your human side and give pet owners the confidence that you will be there supporting them and their pets for as long as they come to you. Interior decorating in veterinary offices is all about making sure that anyone's first visit will help turn them into lifelong clients.