Office parties are held to celebrate birthdays, holidays, anniversaries and achievements. Sometimes they are catered; other times employees are asked to bring food to share with their co-workers. These parties are held in the office where people must walk around with food on their plate, join others around a conference table, or pull desk chairs together and balance a plate on their laps. Keep this and some dietary concerns in mind when preparing food for an office party.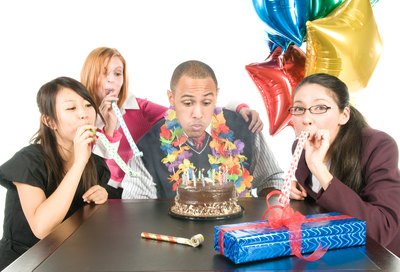 Finger Foods
Think cocktail party without the cocktails. You and your office mates will be socializing at the party, likely milling about or roaming from one area of the office to another. Make doing so easy by preparing food easily eaten without utensils: finger food. Find recipes in the appetizer chapter of your favorite cookbook. Popular office party foods include little meatballs (usually kept warm in a crock pot), brownies and vegetables and dip. Incidentally, all three of those can be purchased already made at your grocery store---you don't have to bake or cook if you don't want to.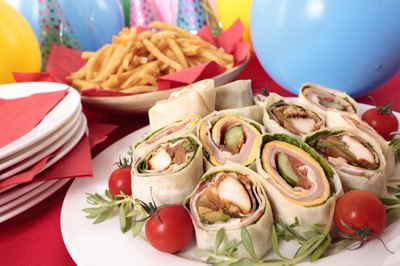 Food Labels
Some of your co-workers may be allergic to nuts. If it is not obvious that your contribution to the party contains nuts, make a little table tent or label that says so. Also, if you have a dietary restriction (for example, if you are lactose intolerant or have celiac disease) and have brought something to share that abides by those restrictions, let others know. You're probably not the only vegan or celiac sufferer---make sure the others benefit from your dairy-free or gluten-free contribution to the party.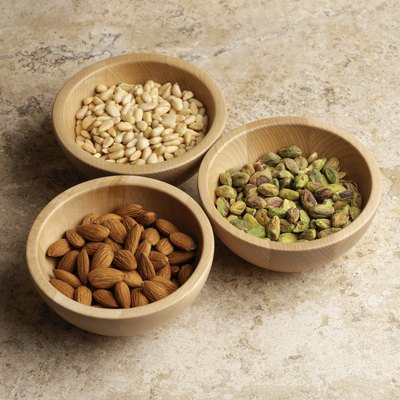 Precut Servings
If what you bring to the party must be cut into individual servings, cut serving pieces in advance. When it's time to party, your co-workers won't feel awkward about having to cut their own slice. Sometimes it's hard to tell if enough people have brought food to feed everyone involved. Cutting smaller slices before setting out your dish to share helps ensure that more people can enjoy what you brought. If you bring a salad, don't forget to include a serving spoon.