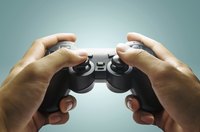 Some marketing ideas are more important for one type of game over another. The traditional marketing channels for games can change depending upon whether your game is for iPhones or for outdoor toys. Since the majority of games in stores and in the media are video games, computer games, and board games, you may want to check ideas for a genre other than your game's. You never know when you might find a new way to market your game from a different industry, and it might give you ideas for releasing your game in other formats.
Video Games
Depending on the console platform for your game (whether you are designing for Xbox, Playstation, or Game Cube) and/or the handheld platform (Game Boy, Nintendo DS, Game Gear, or others), you may have different gaming publications and websites that need to know about your game. Writing a press release and including clear and exciting screen captures is the best way to do it. It is also important to let more general-interest media know, and since there are so many others trying for more limited air time and column inches, you may need to work with a public relations firm that can help refine your pitches and make sure they get to the right editor. Figure out which consumer conventions you need to be at far in advance of your game's debut, and come up with a variety of marketing and promotion tools, which may include limited-level versions of your game to give out on flash drives, contests or competitions, large canvas banners featuring your artwork, coupons, costumed characters, or celebrity appearances. You may have specific promotional opportunities available through the platform manufacturer, so check with the promotions department; they may be able to let you piggyback with some of their promotion and/or get your game bundled with a new release. You need a website that gives players as much of a feel for the game play as possible, and it needs to make ordering or buying the game easy. You will need to send out review copies. Think about releasing limited versions for mobile phone platforms.
Computer Games
The marketing tools for computer games can include a lot of the same ones as for video games, but in this arena, you need to focus your marketing more to online media. Placing banner ads on websites is especially helpful, and be creative in picking the sites; you may get a lot of interest from sites that only have free Flash games or only cater to board game players, because if consumers likes computer games, it's likely they will like games in other formats, too. Reviews are important here too, but general publicity won't be important near the beginning, unless you can get into a national chain like Game Stop. Trade shows become a lot more important in this format, because the distribution channels are a lot more wide-open than for video games. Consumer shows are about as important, and it is always worth it to invest in the electrical hookups and the computers so players can try it out. Buying email lists from massive multiplayer (MMP) sites may be useful. If you make your game playable on Macs as well as PCs, Apple's promotion department will have ideas for getting your game out to its customers.
Board and Card Games
Since the direct sale route for board and card games is much smaller, your emphasis with these types of games needs to be more on building wholesale and retail channels, which you do through reviews and articles in trade media, exhibits at trade shows, and by giving your sales staff incentives for new accounts. Parenting and educational publications and websites become more important in this genre, and reviews and feature stories are good to pitch. A public relations firm is a good idea here as well, as a game with a really timely theme can get more attention as a board game than an electronic game in the general market, simply because the market for electronic games is so much bigger. You do not need to get a lot, but you may want to invest in getting a couple of seals of approval for your game; ones from Mensa, Dr. Toy, and a few others are worth investigating, depending on the age group and theme of your game.