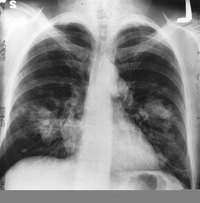 Stage IV lung cancer is the worst type of cancer you can have. It means that your lung cancer is in an advanced stage. At this point, treatment options are not focused on curing the cancer but of improving your quality of life.
What is Stage IV Lung Cancer?
Stage IV lung cancer is a non-small cell lung cancer, which makes up about 75 percent of lung cancers. Though not all non-small cell lung cancers are stage IV, if the tumor can't be removed by surgery, it is considered stage IV. The cancer has also usually spread beyond the lungs.
Chemotherapy As a Treatment
Since the cancer can't be removed through surgery (in part because the surgery could help the tumor metastasize), chemotherapy becomes the preferred treatment. Chemotherapy can stop or slow the growth of the cancer. Chemotherapy is the process of using medications to attack rapidly dividing cells. Because cancer cells divide more often than most other cells, this makes the cancer cells the target of the medications.
Benefit of Chemotherapy
Chemotherapy of stage IV cancer will generally extend the life of the patient beyond that expected for a person who receives only supportive care. Studies have shown chemotherapy patients are twice as likely to be alive a year later than a supportive-care patient.
Chemotherapy Treatment
A cycle of chemotherapy for stage IV lung cancer may involve 4-6 treatments that can take up to 4 months. Though sometimes chemotherapy can be taken as a pill, it is usually given intravenously. There are more than 200 chemotherapy drugs that are used in at least 50 combinations. For stage IV lung cancer, the initial therapy is with a combination of two drugs. This is more aggressive and is likely to cause more side effects, but it is also more likely to have a significant impact on the cancer. Some doctors have been adding a third drug, bevacizumab, to the combination with promising results.
Chemotherapy Side Effects
Because chemotherapy attacks rapidly dividing cells, it can also attack rapidly dividing healthy cells like hair follicles, bone marrow and the stomach-lining. This leads to sides effects such as hair loss, digestive problems, nausea, mouth sores and lowered blood-cell counts. Chemotherapy side effects vary from person to person. Sometimes the sides effects may grow less noticeable over time and sometimes, they may become worse. While the cancer cells can't survive chemotherapy, healthy cells usually can.
Recurring Cancer
Unfortunately, most stage IV lung cancers will return. Chemotherapy won't cure the cancer, it will only extend the patient's life. When the cancer does return, the doctor may try a different chemotherapy regimen.
Other Treatment Options
If the cancer is advanced but has only created a single lesion, the doctor may attempt surgery. Radiation therapy may be recommended if the cancer symptoms are severe. If the stage IV lung cancer has spread, radiation therapy may help.