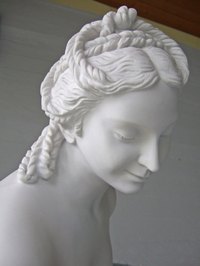 The period of ancient Greek history known as the Classical period spanned 480 to 323 B.C., representing the culmination of maturity in Grecian art, politics, culture and philosophy. Greek civilization's influence on the Western world remains to this day, including the areas of costume and fashion. Many classic hairstyles considered in vogue today possess origins in the Greek Classical period. The prevailing Classical values of counterbalance, symmetry, logic and perfection were reflected in the period hairstyles.
Chignon
In the Classical period, women wore their hair parted in the middle and pulled back from the face. Aristocratic Athenian women signified their class through their hairstyle, their long hair typically pulled back into a chignon, or bun, at the base of the neck or up on the crown. The chignon, pronounced "sheen yon," was held in place by gold- or ivory-adorned pins. Curled or styled tendrils of hair flowing down over the ears often accompanied the chignon. The complexity of the twisted bun increased with the formality of the occasion and/or the wealth and class of the woman. A band, or diadem, of ornate metal might adorn the head from the crown to the nape, holding the hair's shape in place while serving to beautify.
Ponytail
The classic period hairstyle of Sparta, for both women and men, was typically the ponytail. Sparta's warrior-like mentality and focus on physical athleticism for both sexes greatly influenced its perspective on the attractiveness of certain hairstyles. Women wore their long ponytails simple or enhanced the look with lavish adornments of ribbon, pearls and beads.
Curls and Coloring
Curls were another signature element of the Classical period, with curled locks accenting the chignon as depicted in period art. Greeks viewed blond coloring as the ideal in their aspirations to be more like their deities. Greek Gods and Goddesses traditionally possessed blond hair, as conceived through notions of the Greek ideal.
Servants
Female servants or slaves wore short, cropped hair to signify their social position relative to the aristocratic and wealthier in Greek society. Social status was clearly marked by hairstyle in Greek society; one could easily determine another's social position by how the hair was worn and decorated.
Men's Classical Hairstyles
Short haircuts with a clean-shaven face dominated trends in men's hairstyle during the classical period. On occasion, a man might prefer to be fully shaved.