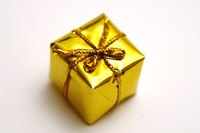 Gifting can get out of hand, whether it's for Christmas, birthdays or other special times. We often feel obligated to give a gift to coworkers, neighbors, shut-ins from our churches and those who cross our paths in other ways. Yet, the expense can be overwhelming. Cheap gifts often are the most memorable, especially when they are creative. Give inexpensive or free gifts to suit recipients of all ages and for any occasion.
Food Molds
Give some fun-shaped pancake or egg molds or some toast cutters that make shaped breakfast foods. These breakfast items are available at grocery, department or gift stores. The gift recipient can cook up some heart-shaped eggs, wild animal pancakes and dinosaur toast. Candy or ice molds have a multitude of uses, such as making shaped butter patties or small frozen treats or ice cubes. Cookie cutters of all sizes can turn plain sandwiches into imaginative treats. A purchased or homemade cookbook will help give a cook ideas to use the molds and cutters in unusual and creative ways.

Writing Supplies
Make shopping lists or "to-do" pads with a creative card-making computer program. Paint the top of the pad with liquid adhesive to form a tablet. Remove the lid from a crayon box of any size. Cut several papers to fit inside the box. Tie a ribbon onto a pencil and tape the opposite end of the ribbon onto the side of the box. Glue a magnet to the back of the box to create a refrigerator memo holder. Create greeting or note cards with a computer card program. Buy or make envelopes to fit the cards, or ask a card store for leftover envelopes. Tie the stack of cards and envelopes together with a ribbon. For a little extra expensive, you can buy a book of "forever" stamps that will provide stamps for the recipient that will not cost extra if postage raises.

Veggie Bouquet
For a hostess or housewarming gift, create a bouquet from snack-sized vegetables. Push cauliflower or broccoli florets, baby carrots and radishes, separately, onto bamboo skewers to look like flowers. Choose vegetables that won't discolor quickly. Arrange a variety of colors of the veggies in a vase. Tie a ribbon around the vase, and tape a packet of dip mix onto the ribbon. The gift can be eaten right away or refrigerated for later use.

Games
Purchase one or more decks of cards and a package of dice. Place these with a book or sheets of instructions to play different games. Hoyle produces books of games to play with cards or dice. Lists of games and rules are also available to download and print online. You may also consider buying a newly developed game and unusual game to give as a gift.

Regifting
A gift you have received and will never use may be a perfect gift for someone else. Think of the gifts you have tucked away after receiving them and determine if they match the personality of the gift recipient you have in mind. Think of gadgets, books, picture frames, candle or bath sets and even a "family heirloom" you never use.