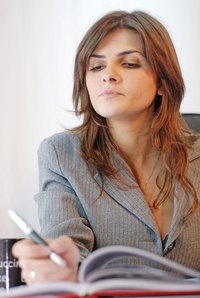 If you have both thick hair and a heart-shaped face, you're in luck. Most hairstyles that work great on thick hair also complement heart-shaped faces. A heart-shaped face is wide at the temples and narrow at the chin. Thick hair is typically described as voluminous and sometimes course. Whether you like to wear your hair long or medium-length, you can find a hairstyle that suits both your thick hair and heart-shaped face.
Long Hair With Layers
Layers give thick hair shape, while ridding it of excess volume. According to Becomegorgeous.com, "Hair layers are usually a must when it comes to thick hairstyles as they can relieve some of the hair's weight and allow the hairs to fall into place easier." A long hair style also complements a heart-shaped face. According to TheHairStyler.com, "Heart face shapes need to add some length to their shape and to create width around narrow chins."
Chin-Length Bob With Layers
For people with heart-shaped faces, Visual-makeover.com says, "A chin length bob is great on your face shape! This creates a balanced look by giving fullness where you need it." This layered hairstyle also works for medium to thick hair because it adds texture and gives hair volume without looking like its weighed down.
Long or Medium-Length Hair With Side-Swept Bangs
Many beauty experts claim that people with heart-shaped faces should avoid heavy, straight bangs. TheHairStyler.com says, "If bangs are wanted, make sure that they are side-swept bangs not straight across as blunt cut bangs will only make your face shape shorter and wider." Side-swept bangs are generally textured, thus long or medium-length hairstyles with side-swept bangs also work well for people with thick hair.