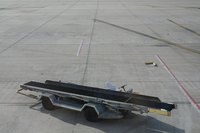 Conveyor belts are found in almost every industry. A conveyor belt is a mechanical device used to transport solid materials from one point to another. They are used to feed other pieces of equipment with product, bring parts for mass assembly or transport shipping boxes into trucks. The ubiquitous conveyor belt increases efficiency, productivity and accuracy of production. The correct specifications are critical for proper application.
Belt Configuration
A conveyor belt can be specified in a variety of configurations. Typical conveyor belt designs include two pulleys and a continuous belt of material wrapped around them. An elevator belt can lift materials to higher levels and contain buckets and ribs. Conveyor belt systems can be extensive and split the flow of materials. Belt designs can flip materials, drop them into vats or deliver parts to various locations of a plant. The application must be understood before configuring a conveyor belt system.
Belt Materials
The choice of belt material is also an important specification based on the application. Food grade applications may require sanitary belt materials that can be easily cleaned. Belt thickness may be an issue for transporting industrial equipment and some conveyor belts may require steel fiber reinforcement. Chemical compatibility is important where the possibility of corrosion exists. Some conveyor belt systems transport materials through high or low temperature equipment such as freezers and ovens. For these applications, temperature resistance specifications are required.
Performance Specifications
Conveyor belts are driven by motors and pulleys. These specifications call for variable speed adjustment and can speed up or slow down materials from one belt to the next. Parts to be assembled may require quick start and stop capabilities of the motor drive system. The maximum operating speeds must be specified as well as certain control schemes. If complex controls, movements and directions are required, the use of programmable control systems should be specified.