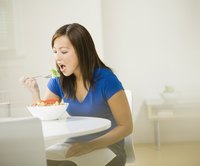 Healthy eating can seem complicated if you get bogged down in too much detail, so look at the big picture to improve your diet. Eating healthy can mean the difference between feeling energized and ready to take on the world or feeling so fatigued you dread getting out of bed in the morning. Make smart choices with your diet by making sure your diet meets a few basic criteria, and you'll be on your way to a healthful lifestyle.
Rich in Nutrients
Foods high in vitamins and minerals per calorie are considered nutrient-rich. For a healthy diet, eat a variety of these foods, such as vegetables, fruits, legumes, whole grains, low-fat dairy products, lean meats, fish, nuts and seeds. These foods help provide the nutrients that Americans don't always get enough of, including fiber, potassium, magnesium, calcium and vitamins A, C and E.
Balanced in Macronutrients and Energy
Following the recommendations of the U.S. Department of Agriculture's ChooseMyPlate website can help you get the right amount of protein, carbohydrates and fat. These include filling half your plate with fruits and vegetables and splitting the remaining half of the plate between lean protein sources and grains, with at least half of the grains coming from whole grains. Add a glass of milk or a different source of calcium to complete your meal. You also need to think about energy balance -- the calories in your diet vs. the calories you burn daily. An energy-balanced diet helps you maintain weight, but eating more or less than you burn each day will cause weight gain and loss, respectively.
Minimally Processed
Highly processed foods often contain fewer vitamins and minerals than less processed foods and tend to be higher in fat, sodium and sugar. Sticking with whole foods or minimally processed foods, such as bagged or cut vegetables, roasted nuts, canned tuna and vegetables and frozen vegetables and fruits, is usually a healthier choice than eating highly processed ready-to-eat meals and snacks. Look for foods without added sugars, choose low-sodium canned and packaged foods and avoid foods with trans fats.
Low in Contaminants
Some fruits and vegetables contain high amounts of pesticide residues, and certain types of seafood are high in mercury. Limiting these in your diet may help you stay healthier. You'll also want to prepare your foods in a safe way to avoid contaminating them with organisms that can cause food-borne illnesses. Buying organic apples, strawberries, grapes, celery, peaches, spinach, bell peppers, nectarines, cucumbers and cherry tomatoes will help you limit your exposure to pesticides. Choosing other fish instead of king mackerel, bigeye and Ahi tuna, shark, tilefish, swordfish, marlin and orange roughy can help you limit your mercury exposure. To limit food-borne illnesses, wash your hands and cutting surfaces in between cutting meats and vegetables, don't use the same dishes for cooked and raw meats, and cook meat and eggs thoroughly.