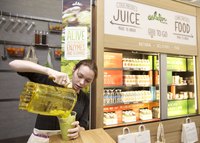 According to a May 2014 IBISWorld report, 1,419 businesses identified themselves as being in the $2 billion smoothie trade. Many of them were run by entrepreneurs who didn't have advanced nutrition degrees or culinary skills. The main ingredient in a successful smoothie business is knowing where to set up shop and how to meet the demands of health-conscious customers.
A Branded Business
Franchising has a significant presence in the smoothie industry, with some, like Smoothie King, boasting more than 600. Business choices over items such as equipment, signage and drive-through services can alter an initial investment. Franchise fees vary, but in 2014 Emerald City charged $25,000 for a full-service unit and $15,000 for a kiosk. Tropical Smoothie Cafe carried a $25,000 fee, or $12,500 for veterans. For a full "traditional" Smoothie King Franchise, expect to invest between $144,400 and $336,200.
Not Just Smoothies
Some Smoothie businesses also offer food to appeal to health-conscious customers. For example, a Supreme Smoothie franchise usually has salads, soups, pita wraps, veggie burgers and protein bars on its menu. Froots stores feature chicken wraps and gourmet salads. Others work the fruits and vegetables into the smoothies themselves. Foodservice Equipment and Supplies magazine did a study in 2011 on a smoothie bar and grill whose products included carrots, celery, spinach and blends of strawberry and bananas.
Space and Beyond
A typical storefront shop, where you can offer food and seating, has between 800 and 1,600 square feet. As a rule of thumb, you'll need between 300 and 600 square feet for a mall food court site. You can run a kiosk with 100 to 250 square feet, but only if your menu is limited to smoothies. Franchisors will typically have their own location and minimum space requirements. You can also take your business mobile, particularly to reach large gatherings.
Blend and Chill
Your blenders and juicers will get significant work, so choose commercial grade ones so that you don't need replacement parts more than once a year. You'll also need more than one. In fact, Foodservice Equipment and Supplies magazine found an independent business that ran four. If you have a storefront establishment, you can use a walk-in refrigerator. Kiosks come with refrigerators included. For that crucial supply of ice, you need a machine capable of making 800 pounds of ice per day.