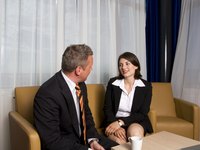 Whether your business sells a service or a product, it needs to establish and maintain a clear line of communication with its consumers to be successful. You can often resolve customer communication barriers with sufficient employee training. Once you remove these communication barriers, you create satisfied and loyal customers.
Lack of Information
Customers need to know the business policies that affect them such as return policies or pricing policies so they're not unpleasantly surprised in later business dealings. This can be accomplished by posting policies in public areas or including such policies in customer paperwork or contracts. Since your staff communicates with customers on a daily basis, you must train your employees on company policies and inform them whenever a policy changes.
Insufficient Staffing
When you do not employ a sufficient amount of staff members to service your customers, your quality of customer services diminishes. Customers become frustrated and unable to communicate their needs to your employees due to long lines, lengthy on-hold waits or overwhelmed employees who might rush through the transaction.
Language Barriers
Language can create a communication barrier. Offensive language may insult the customer, especially if it's sexist or racial in nature, while technical jargon may confuse the customer. Expressions or phrases may hold different meanings in other cultures. When your employees use expressions such as "when pigs fly," a customer from a different culture may interpret the expression literally and become confused. For optimal communication, your employees must use clear, respectful language that is familiar to laymen.
Gossiping
Gossip breaks down communication by fueling untrue rumors and establishing distrust between employees as well as employees and customers. Employees should be instructed to treat each other and customers with respect and sincerity.
Messages
Customers and colleagues often leave messages for specific employees through voice mails, answering machines or e-mail. To ensure that the recipient of these messages clearly understands their content, the message must give clear, direct information such as an exact time for a meeting versus an approximate time for a meeting. When information is left open for interpretation, communication breaks down.
Stereotyping
According to Ohio State University, "Stereotyping causes us to typify a person, a group, an event or a thing on oversimplified conceptions, beliefs, or opinions." Instead of communicating, you assume you already have all information you need about a customer. To avoid stereotyping, make sure you talk to your customers without making assumptions based on preconceived beliefs.