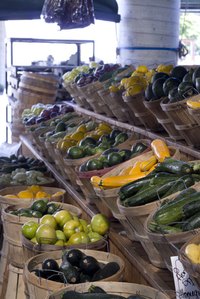 Maintaining your normal body temperature, 98.6 degrees Fahrenheit, can be accomplished through a variety of methods. Certain eating methods and even types of foods that you consume can help maintain your "core temperature." Your temperature must be kept between 96 and 101 degrees or hypothermia or heat stroke could strike.
Neutral Food
By paying attention to what you eat, you can affect your core temperature. If your temperature is already at its desired level, try eating wholegrain bread, noodles, black sugars, honey, pumpkin, sweet potato, strawberries, apples, cherries, grapes, soy, red mung beans, natto and konjak, to maintain your core temperature. Drinks such as brown rice tea and grape juice will keep your temperature level. Generally, yellow foods are the best choices for maintaining your temperature.
Cooling Food
Sweating is a key indication that it is time to cool down. Besides the obvious option of drinking a cold beverage, there is an assortment of foods that can take your temperature to its desired level. Refined sugar, refined and processed snacks, curry, tofu, sprouts, green vegetables, cucumber and tropical fruits are efficient. Drinks such as soda pop, coffee, green tea, beer, whiskey and milk are also effective. Vinegar and vegetable oil also work. Generally, green, white and soft foods will cool your temperature.
Warming Food
Sea salts, Japanese plum, pickled foods, natural soy sauce, cheese, fish, brown rice, garlic, onion, leeks, ginger, roots, black beans, black sesame, goji, wolfberry and meats all raise your body temperature. Red meat is especially efficient. Some drinks that raise your temperature include red wine and red tea. Typically, food that is red, black and hard are best.
Other Tips
Watch out for refined food like instant noodles and fast food. Nutritionally dense food is better at keeping your internal heat temperate. Avoid overly cold water, as that can cool your body too much. Generally, eat warming food, particularly those that grow on trees. Vegetables, especially leafy ones, are best. Eat food that cools in moderation.