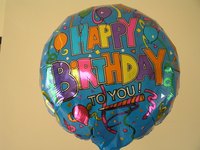 If having a traditional birthday party is not your idea of a fun way to celebrate a birthday, but you don't want to spend a ton of cash making it special either, there are a ton of inexpensive things you can do in Phoenix, Arizona. Regardless of the season or the age of the birthday girl, there are activities that will put a smile on every face, without putting a hurting on your wallet.
Museums
If there is one thing that there is no shortage of in the Phoenix area, it is museums that offer free admission. Whether your interest is learning about local history at a site like the Arizona Cultural Museum, or dinosaurs and early civilization at the Arizona Museum of Natural History, the area museums provide an educational way to usher in your next year. If the birthday is question is for a child, be sure to check out the Arizona Museum for Youth. The admission cost is waived the first Sunday of every month, and children can explore art, creativity and movement in their interactive exhibits. If Sundays just don't work for you, the regular admission is only a budget friendly $6.50.
Stuffington Bear Factory
If your birthday boy is a fan of plush stuffed bears, then the Stuffington Bear Factory may be the ideal way to spend his birthday. Offering free tours of their factory to the public, the Stuffington Bear Factory offers visitors a sneak peak into how teddy bears are made. During the 20-minute tour you will learn interesting facts about the origins of the teddy bear, and you will be able to witness bears being made, right before your eyes. As a special treat, you can opt to purchase your own bear at the end of the tour, which you can stuff yourself.
Cerreta Chocolate Company
Another local business that offers a free, behind- the-scenes look at how they make their own personal brand of magic is the Cerreta Chocolate Company. The Cerreta Chocolate Company has been in business for more than four decades and is well known in the area for their decadent chocolates and other sweets. The 30-minute tour will take you through the caramel and chocolate making process. Be prepared to have your belly start rumbling as the sweet smell of candy wafts through the air. Top off your celebration with some fresh, homemade candy.
Rookie League Baseball
If you happen to be blessed with a summertime birthday, then you are truly in luck. Arizona rookie league baseball holds games from June through late August, and they are free to the public. More than 50 games are played over the course of the rookie league season, and you can bring your own refreshments, as there are no concessions. The rookie league is sponsored by the Major League Baseball Association, and players who will eventually make their way to the majors are often found on these teams, making this the ideal way to spend a birthday for the baseball lover in your life.