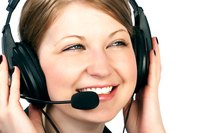 Any service industry worker must understand the personal and professional values of high-quality customer service. Customer service skills contribute to increased sales, customer satisfaction and customer retention, all factors that determine the longevity of a business. Effective training combines interactive games and activities with core service values and skills to enable customer service providers to deliver a high level of service to consumers.
Attitude and Demeanor Activities
A positive attitude and approachable demeanor are significant assets for a successful customer service representative. A company can host activities in which participants identify positive behaviors and attitudes in themselves and others. Demonstrate the value of first impressions with a speed-dating style activity. Participants stand in two lines that face one another. The partners talk for two minutes before one line rotates to a new partner. Continue the activity for several rotations and then ask participants to vote for the person that seemed the most friendly, helpful, sincere or engaged; discuss what behaviors or language contributed to the person's demeanor and how those behaviors can be replicated in a customer service situation.
An equally important aspect of customer service is managing negative feelings. Emplyees should practice activities for stress management before, during and after work so that stressful feelings do not impact service performance. Ask participants to write about their idea of a perfect morning before work; share ideas on how to have more pleasant mornings. Management can conduct a role-playing activity that simulates stressful work situations and ask participants to brainstorm ways to manage those feelings at work without jeopardizing job performance.
Communication Activities
Effective and engaged listening is an integral part of delivering efficient and accurate customer service. A company can practice skills for both communicating and listening by asking participants to complete a simple task like making a sandwich. Ask a pair of volunteers to stand back to back in front of the group. One partner describes how to make a sandwich to the other partner, who follows the exact directions; participants will likely skip directions like opening the jar or picking up a knife, resulting in a sandwich disaster. A member of management can discuss the importance of clear directions and feedback for successful customer service. A variation on this activity involves active listening. Invite three volunteers to give oral descriptions of their childhood homes. After the descriptions, instruct the rest of the participants to draw a picture of one of the homes. The volunteer who was selected votes on which drawing is the most accurate. The group can discuss strategies for actively listening and then translating the information into action in customer service situations.
Problem Solving Activities
Problem-solving activities equip customer service representatives with skills necessary to manage customer complaints and inquiries. Participants are placed into several groups of four; each group member writes down a description of his worst experience dealing with a customer. The group then votes on one description to turn into a role-playing activity in which the group demonstrates at least three different ways to better manage that type of problem. The activity can be followed up with a discussion about best practices for managing challenging customers. Another group activity involves asking participants to brainstorm as many ways as possible to deliver bad news to a customer. Groups then share the various ways to let a customer know that a product is not available, a sale has ended, a shipment has been lost or their demands cannot be met.