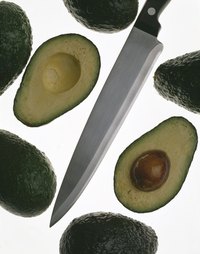 The human body requires Niacin to convert food into energy. The daily requirement varies depending on age but ranges from 2 to 8 milligrams for babies to 16 milligrams for adults. Pregnant and lactating women require the most, typically 17 to 18 milligrams per day.
A diet low in Niacin can result in depression, headaches, fatigue, diarrhea and skin issues. Although proteins such as meat have the highest amounts, some fruits and vegetables also supply smaller doses.
Spirulina
Spirulina, a type of blue-green algae, is one of the best plant sources of Niacin. One cup of dried spirulina contains 14.358 milligrams of Niacin—nearly an entire day's requirement. One of the easiest ways to sneak spirulina into your diet is to add it to smoothies or dips.
Mushrooms
Some types of mushrooms are high in Niacin. One cup of diced raw Maitake mushrooms contains 4.6 milligrams of Niacin. This equates to 23 percent of the required amount for adults and children over the age of 4. One cup of sliced, grilled Portabella mushrooms contains 7.2 milligrams or 36 percent of the daily Niacin requirement. A cup of diced and raw Portabella mushrooms contains 3.9 milligrams or about 20 percent of the daily requirement.

Other Fruits and Vegetables
There are a few other fruits and vegetables that are good sources of Niacin. A cup of ground cherries provides 3.9 milligrams of Niacin, about 20 percent of the daily requirement. A cup of fresh passion fruit provides 3.54 milligrams or 17.7 percent. One medium avocado contains 3.493 milligrams of Niacin, which is equivalent to 17.5 percent of the daily value. A cup of boiled peas contains 3.234 milligrams or 16 percent of the daily requirement.