If you're setting up a new office at home or in an outside workspace, your equipment needs have largely to do with what kind of work you'll be doing at your office. Write down your needs beforehand and brainstorm what equipment might help meet your goals. There are some pieces of equipment every office needs, however.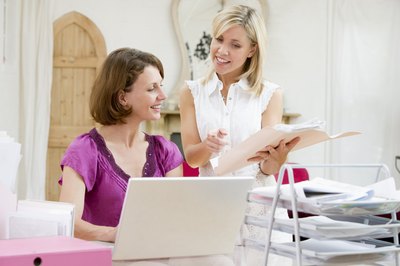 Computer
Whether you're working from your home or have a commercial office, a computer proves an invaluable resource for production, communication, and any aspect of business management. The type of computer and its specs depend entirely on what you'll be doing with it. A freelance writer who only uses her computer for word processing, emailing, Internet research and database management (for earnings and expenses) needs a much simpler machine than the freelance video editor or graphic designer. You can buy a computer brand new or purchase one from craigslist or eBay (some refurbished), which cuts your expense on this item dramatically.
Multi-Function Machine
Chances are, you'll need to make copies, print something out or fax it from your office. Instead of buying three bulky machines, invest in a machine that gives all three functions. These machines often have a phone as well. The quality of your machine depends on the volume of printing/copying you'll be doing on it. You also must stock up on ink cartridges and cleaning materials to keep your machine in working order.
Equipment for Comfort
For an inviting, motivating work environment, you can decorate your office as chic or stately as you'd like. Decorating requires items like wall hangings, chairs, desks, plants, window treatments (shades or curtains that can reduce glare from windows) and desktop tools and supplies. To save money and create an eye-catching look, shop at thrift stores or used office furniture shops. Pay attention not to purchase furniture that is so comfortable you end up dozing off while working. Lighting should be bright, but you don't necessarily have to purchase fluorescent bulbs. Your work environment should stimulate and motivate you.
Storage and Supplies
For record-keeping, you'll need a file cabinet, expandable file-folder or organizing containers. Consider a firesafe if you'll be storing extremely important documents in your office. Stock up on pens, pencils, tape, staples and a stapler, hole-punch, ruler, dry-erase board and markers and stickies. You might also want some household and electronic cleaning supplies on hand to keep a tidy workplace.