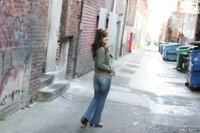 Being stick-thin is no longer a prerequisite for wearing great clothes. Whether you are plus-sized or petite, you can accentuate a curvaceous figure through fashion. By choosing the right fit and flattering items, you can flaunt your body's natural curves with style and confidence.
Sweater Dress
A sweater dress in a slimming material such as cashmere accentuates a curvaceous figure. Wear an oversized belt at the slimmest part of your waist to create an hourglass look. Avoid oversized bulky knits, which can look shapeless and make you appear larger. To create a sleeker look, wear a body shaper beneath the dress to smooth out any bulges.
Jacket and Pants
A properly fitting jacket paired with flat-front pants is a great outfit for curvy women. The jacket should have enough shape to accentuate the smallest part of your midsection, while the flat front pants minimize tummy bulges and balance out full hips to accentuate an hourglass figure. Make sure that the jacket is not too tight or too loose fitting. It should be able to button without pulling at the back or the bustline, but should also hug your curves closely enough that it does not look shapeless or boxy.
Trouser Jeans
Trouser jeans have a slight flare at the bottom, balancing out the body and creating a slimmer, curvy appearance. Wearing jeans that flare slightly or fall straight down from the hip are very flattering, especially if you have wide hips. Tapered leg jeans are not a good choice for most curvy women. They make your lower leg appear smaller, which in turn makes you appear bulkier around your hips, thighs and midsection.
Shapely Skirts
Paired with the right top, shapely skirts accentuate curves and balance out your body. Trumpet skirts, or those that fit closer around the hips and then flare at the bottom, balance full hips with fullness at the bottom of the skirt. Pencil skirts also look great on curvy women with the right fit. Wear a skirt with a high waist to hug you at the smallest part of your midsection to show off an hourglass shape. If you are pear-shaped and carry more weight at the bottom half of your body, wear a skirt with a lower waist and a slim-fitting, light colored top to draw attention to your slimmest part.