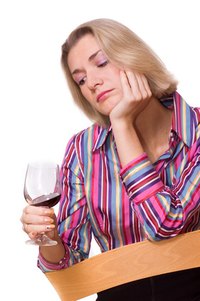 Heartburn, regurgitation, coughing, hoarseness and throat clearing may be signs of a diet high in acidic foods. Burning in your throat or chest may be the result of heartburn while stomach fluid in the back of the mouth is acid indigestion. According to the website Medline Plus, such symptoms occurring more than twice per week may be classified as acid reflux or gastroesophageal reflux disease (GERD). To maintain health, certain foods that produce high amounts of acid should be avoided or limited.
Meat and Poultry
Protein is essential for maintaining a healthy diet. According to an article by Dr. Jonathan E. Aviv on "The Dr. Oz Show" website, however, meat and poultry such as ground beef, marbled steak and processed chicken products often have a high fat content, which makes them harder to digest and, therefore, increases acid production in the stomach.
Other animal products that produce high levels of acid include bacon, corned beef, lamb, pork and organ meats.
Dairy
Drinking milk to ease an acidic stomach may work in the interim, however, most dairy products, which encourage secretion of stomach acid, should be avoided when possible.
Although low-fat dairy products may be more tolerable, people who want to avoid acid should steer clear of regular and high-fat dairy products, including sour cream, milkshakes, ice cream, cottage cheese and high-fat cheese.
Fruits and Vegetables
Certain fruits that are considered high in acid should be limited or avoided. Cranberries as well as citrus fruits, such as oranges, grapefruits, lemons and limes, can irritate the esophagus. Canned and processed fruits and juices with added sweeteners and preservatives also are highly acidic and should be avoided.
Vegetables that produce acid include raw onions, garlic, corn and olives. Raw tomatoes and tomato products, including sauces, salsas and condiments, are very acidic and should be limited as well.
Grains
Highly processed grains found in high-fat baked goods are hard to digest and can produce acid in your stomach. White breads, which lack fiber, should be avoided. Macaroni with fatty cheese sauces as well as pasta with acidic marinara or heavy cream sauces should be limited as well.
Beverages and Junk Food
Beverages that produce acid include coffee, tea, cocoa and cola. Alcohol, including beer, liquor and wine, is highly acidic too, and should be limited.
Potato chips, corn chips, chocolate and mints stimulate the stomach to produce acid. High-fat foods found in fast food chains should be limited. Moderation is the key with these acid-producing foods. A stomach full of high-fat foods stimulates the secretion of more acids for digestion.