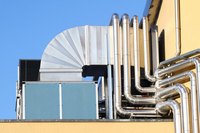 Although landlord-tenant law varies from state to state, and sometimes by municipality, most areas require that landlords keep their units up to minimum livable standards. Most states require landlords to maintain buildings to provide heat in the winter, so tenants with a malfunctioning Heating, Ventilation and Air Conditioning (HVAC) unit may have a range of options to remedy the situation. Air conditioning is not a requirement to meet minimum living standards, so tenants do not have as many rights to force their landlord to address that side of the heating/air-conditioning equation.
Minimum Living Standards and Force Outs
Most states do not allow landlords to rent units that do not meet basic standards of habitation. Basic standards include providing potable water, electricity, sewage removal and a waterproof roof in addition to an adequate heating system. Your landlord may be in violation of your state's landlord-tenant law by refusing to repair broken heating systems. Even if it's not expressly indicated, a lease implies a warranty from a landlord to maintain adequate living standards. In addition to minimum living standard requirements, most states make it illegal for landlords to force their tenants out of their leased property by locking them out or shutting off their utilities. Denial of heat may constitute a force-out by your state's standards. In both cases, your landlord may be legally impelled to fix the HVAC unit to provide heat.
Withholding Rent
Most states do not allow tenants to withhold rent in protest of unattended repairs, and doing so may place you in violation of the lease and allow your landlord to evict you without returning security deposits. Before withholding rent, a tenant has the right to provide notice to his landlord that repairs must be made to the property or rent will be withheld. Tenants must provide landlords with a reasonable amount of time to fix the HVAC unit before withholding rent. Advance notice of rent withholding may be a defense against eviction in some states, though tenants must provide proof the letter was served, usually through a certified letter, to be protected from eviction.
Handling the Repair
If a tenant can prove he notified his landlord about necessary repairs -- through receipt of a certified letter or a document signed by the landlord -- the tenant may hire a contractor to make the repairs himself. These costs may then be reimbursed through civil actions or through deductions in upcoming rent payments, depending upon your state's landlord-tenant law.
Finding Temporary Lodging
If heating conditions make it impossible to live in the unit during the winter, many states hold landlords responsible for the costs of providing temporary lodging for tenants until the situation is remedied. Tenants may need to seek reimbursement through civil court or through future deductions in rent, depending upon their state's landlord-tenant law.