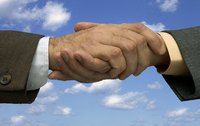 Human resource professionals make key personnel decisions in companies of all sizes. They are also responsible for ongoing training of employees in a variety of different areas. Because human resource mangers typically manage people from various backgrounds and with various qualifications, issues arise from time to time that they must attempt to deal with. These issues can vary depending upon the size of the organization, the industry and immediacy of the situation at hand.
Personnel Issues
One of the most significant challenges for human resource professionals revolves around the need to find and hire qualified and competent employees. Small businesses often face this problem because of the tendency of people to gravitate toward employment with large businesses that can offer more lucrative or comprehensive benefits packages. Small business owners often serve as their own human resource managers until their business grows to the point that they can hire someone to handle the personnel decisions. Finding the right employees can be an expensive endeavor. Human resource managers or business owners must often run advertisements in newspapers and on job websites in order to attract the right applicants. Human resource professionals must be able to put together a plan of action to attract and hire the most qualified applicants.
Training Issues
Once employees have been hired by a corporation or small business, the next significant issue they often face is in training those employees. Within larger organizations, this process is generally handled by training and development mangers. The Bureau of Labor Statistics notes that human resource managers develop training programs to increase employee loyalty and productivity. Employees who do well at their jobs and are compensated accordingly tend to remain at their jobs for longer periods of time. This reduces the need for allocating energy and resources for the hiring process.
Legal Issues
Another significant issue for organizations can be the the legal issues that arise from having diversity in the workplace. Because organizations hire both men and women, as well as people from a diversity of cultural and ethnic backgrounds, legal issues can sometimes cause an organization to shift its focus from hiring and training to cleaning up potentially divisive and devastating legal issues like sexual harassment, discrimination in the workplace or even issues regarding benefits and workers' rights. One way that many successful companies and organizations deal with such issues is to simply incorporate them into the training regimen for new employees. By fully educating employees from the outset and enforcing a "no tolerance" policy for violating legal mandates, many companies have been able to keep legal issues from arising in the first place.