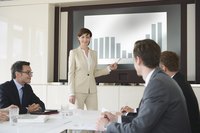 In today's hyper-competitive and increasingly globalized marketplace, marketing is critical to an organization's success. Effective marketing can propel organizations to the forefront of their industry, while ineffective marketing can waste organizational resources and lead to lost market share and revenue.
Cultivate Clarity
No matter what product or service an organization is marketing, the campaign message must be clear to be effective. Without marketing clarity, perspective customers may be left wondering what the organization was trying to market. Worse, they may be left with the feeling that the organization really doesn't understand their needs at all, souring them on the organization as a whole. Driving customer demand is the end goal of any marketing campaign. A confusing, misleading or vague marketing campaign defeats that purpose.
Know the Demographic
Without knowing the demographic for the organization's product or service, a marketing strategy cannot be developed effectively. The organization's brand must be built to attract and retain a specific customer demographic, so understanding who is this demographic is step one in the process. From there, the target demographic is the anchor point for all marketing strategies, from design to implementation. Knowing the customer base also allows an organization to more effectively and efficiently develop new products and services.
Demonstrate Differentiation
Effective marketing shows customers how your product or service is different from the others on the market. Differentiation builds perceived value. It's the reason why people will pay a lot more money for a BMW than a Kia, although both serve the same function and have many of the same features. A successful marketing strategy demonstrates to the customer why they should purchase specifically that organization's product or service above all others. When done correctly, that differentiation effectively builds value and the result is increased revenue and greater market share.