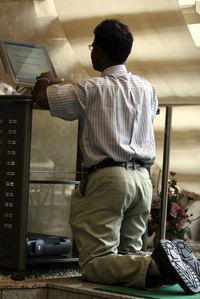 The outsourcing of jobs to India has become increasingly popular, especially in the information technology field. According to "Forbes" magazine, in 2008 there were 4 million people in India doing outsourced IT jobs. Although many employers are outsourcing these and other organizational tasks to India, there are some disadvantages to this practice.
Reduced Managerial Control
Outsourcing to India can result in reduced managerial control. Local managers in the United States don't have the physical proximity they might need to manage a staff in India effectively. It can be difficult to know when employees are being productive, and which areas of a certain project need immediate attention.
Time Loss
It takes considerable time to manage a project outsourced to India. The company must weigh the company's financial gain against time spent doing things like communicating with the U.S. client and then transferring that information to India. Companies also have to consider costs like airfares, visas and accommodations for people traveling to India from the U.S. company.
Long-Term Costs
According to "Forbes" magazine, India's cost advantage in 2007 will vanish by 2015, partly because Indian wages are expected to rise at a rate of 15 percent annually. Businesses opting to outsource to India should keep these increased wages in mind when budgeting for the long term.
Data/Copyright Risks
Outsourcing to India can cause licensing and copyright problems. The outsourced project can be copied and resold to one of the business' competitors. Furthermore, confidential and personal information might be at risk when the project is outsourced to India, particularly in banking and financial business processes. The U.S. laws that protect personal data and privacy are domestic; they do not extend overseas. Therefore, the employer has minimal control over data outsourced India.
Fraud/Economic Instability
According to a January 2009 "Business Day" article, India's fourth-largest software provider was involved in a $1.03 billion fraud, in which the chairman resigned after admitting to falsifying earnings and assets. Of course fraud can happen anywhere, but It is especially difficult to determine a business' economic stability and its ability to give long-term support from halfway across the world.